Flipper Flicker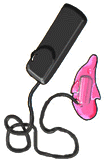 Flipper Flicker
sources: U.S. $34.95 Libida†
"one speed, jelly rubber, attached battery pack. You'll find yourself reaching for this amazingly versatile toy again and again — for him, for her, together or alone. Try it as a cock ring: It stretches to accommodate virtually everyone. You can also slide it on a dildo to create a vibrating toy, use it solo for clit stimulation, or turn it around so the vibrating dolphin stimulates his testicles — a sensation many guys love." —Libida
NOTE: Libida is a premium site that only carries quality toys, so it means something that they carry this item.
Vibrations: one speed
Batteries Required: Two (2) AA cells



Libida Sexperts Recommend:
Ideal for those who like clitoral stimulation with intercourse.
| | |
| --- | --- |
| Vibe Intensity | |
| Volume | |
| Versatility | |

| | |
| --- | --- |
| Clitoral Friendly | |
| Anal Friendly | |
| G-Spot Friendly | |

"This is my favorite toy to use during intercourse. My boyfriend loves the vibration on his penis and the little dolphin hits my clit just right the way I like it, especially if we're pressed close together and he's moving slowly in and out of me." —Pamela quoted at Libida
"Let me tell you about the Flipper Flicker. It's terrific. I know that Libida is primarily a site for women, but this guy is a big fan too. My lady and I recently tried the Flipper Flicker, and let me tell you, it was money well spent. It has really enhanced our experience together.
"Because of it's small size and comfortable fit, I can wear it while I'm inside her and let me tell you, I love the buzz and she really loves the buzz. It is really well designed, and it hits her in just the right spot. Usually when we have sex, she has vaginal orgasms, but not clitoral orgasms. (Those happen separately), but now with the help of Flip, she can have both. I love it too, because it's an added element of sexiness and of sensation. And when I press deep in her and she has an orgasm, I can be still and just feel her contracting on me. It is very sexy. The Flipper is also very versatile. She loves it for solo play because it is small and soft, but packs a nice punch. She lets it tease her nipples, or she uses it on herself when I'm not around. Or when I am. She finds the Flip to be her new favorite toy. It's adjustable speed and multipurpose uses make this a great toy for couples. I highly recommend it." —Damon quoted at Libida
"Lives up to the reviews on the basis of which we bought it (we went looking together). After 10 years of a very satisfactory sex life, which did not include an orgasm during intercourse (for her), this toy made it happen first time out. We still have to work on the timing a bit. Much appreciated by both of us." —anonymous quoted at Libida
"I used this product with my girlfriend because she is unable to come directly from traditional sex. I warmed up with some oral and then slipped this on while penetrating her. It was enjoyable for both of us as it has a powerful punch for such a little vibe. We enjoyed the feel of it both as a vibe and because it is comfortable to wear as it is made from an extremely soft rubber. She experienced no discomfort and I had zero complaints. It's small enough to be completely out of the way, but big enough to get the job done! It was a great way to spice things up and after a few experiments with position and pace it became a great addition to our love life. Top or bottom it hit her in all the right places and the lil' guy stayed on in a perfect position all throughout the sex. For couples looking to spice up their bedroom activities this product gets an A. The chord is a non-issue as the battery pack can be set aside. The only faults I could find are that the vibe intensity doesn't waver much from hi to low, otherwise this is an all around wonderful addition in the bedroom." —anonymous quoted at Libida
If you have used this clitoral stimulator, please share your impressions through the feedback form provided below or e-mail direct to contact00@AdultToyReviews.com.

Adult Toy Reviews.com is not a store…We're better!
We are an independent consumer review site.
We offer links to more than a dozen on-line web stores.
Your purchase from any site marked with an † will help keep our independent consumer review service available and on the web. Or you can contact us to make a donation. Thank you for your participation.
(see important notes below)
Adult Toy Reviews helps you compare sex toys from a wide variety of sources.
†Affiliate: Listings marked with a † are affiliates. If you decide to purchase from this source, please use the link provided. The use of this link will result in a token affiliate payment that will help keep this site on the web. We can't vouch for any affiliate's honesty and remain neutral about whom you should buy from.
NOTE: We can not vouch for the honesty of any of the listed sources. References to commercial sources and their prices provided as a courtesy to the reader. We do not work for any of these organizations. When comparing prices, remember to add in shipping and handling charges, taxes, and other fees. Prices and availability of specific items subject to change (if you notice that a price has changed or an item is no longer available from a listed source, please e-mail us).
some of the sources on the web:

premium sites

specialty sites

discount sites

general sites

Shopping through these links may result in a small percentage of your purchase helping keep this site on the web.
(Many of the sites have tricky rules, so we don't always get a percentage, but it can't hurt to try.).

[ home ] [ toy info ] [ sorted by color ] [ sorted by material ] [ rabbits ] [ butterflies ] [ remote control ] [ strap-on harnesses ] [ dildoes ] [ double dildoes ] [ glass dildoes ] [ hands and fists ] [ vibrators ] [ massagers ] [ sleeves ] [ eggs and bullets ] [ clitoral stimulators ] [ waterproof vibrators ] [ anal probes and butt plugs ] [ beads ] [ breast pumps and nipple exciters ] [ balls ] [ erotic jewelry ] [ cock rings ] [ bondage ] [ lubricants, oils, and creams ] [ barriers ] [ hygiene ] [ erotic clothing ] [ transvestite items ] [ kits ] [ artificial vaginas ] [ male masturbators ] [ dolls ] [ penis pumps ] [ novelties ] [ DVDs ] [ videos ] [ books ] [ words ]
privacy statement
Unlike most web sites, we inform our visitors about our privacy policy. AdultToyReviews.com does collect generic information from visitors for statistical analysis (nation, browser, operating system, screen resolution, and monitor size) — any web site you visit can and probably does collect this information (and more). All individual identification information is immediately discarded (except for subscription information if you join our mailing lists). Information is never sold to outside mailing lists or any other purposes.
feedback
Share your experiences with other women. Give real user feedback on which toys are good, which toys are bad, and why. Let's replace advertising hype with solid information derived from actual experience.
All questions are optional. Pick and choose the ones you want to answer. Or use ordinary e-mail, at contact00@AdultToyReviews.com.
This web page is about the Flipper Flicker Vibrator.

Copyright © 2001, 2003, 2004 AdultToyReviews.com
Last Updated: May 20, 2004
[ home ] [ toy info ] [ sorted by color ] [ sorted by material ] [ rabbits ] [ butterflies ] [ remote control ] [ strap-on harnesses ] [ dildoes ] [ double dildoes ] [ glass dildoes ] [ hands and fists ] [ vibrators ] [ massagers ] [ sleeves ] [ eggs and bullets ] [ clitoral stimulators ] [ waterproof vibrators ] [ anal probes and butt plugs ] [ beads ] [ breast pumps and nipple exciters ] [ balls ] [ erotic jewelry ] [ cock rings ] [ bondage ] [ lubricants, oils, and creams ] [ barriers ] [ hygiene ] [ erotic clothing ] [ transvestite items ] [ kits ] [ artificial vaginas ] [ male masturbators ] [ dolls ] [ penis pumps ] [ novelties ] [ DVDs ] [ videos ] [ books ] [ words ]