CyberChic Sex Doll
cyberskin vagina

A review of the CyberChic Sex Doll. A fantasy sex doll review on the unofficial, unauthorized love doll lover's web site.
complete table of contents listing all dolls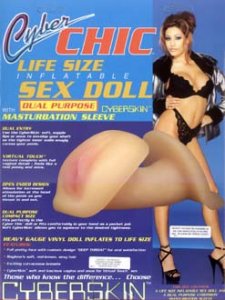 Category: inflatable female love doll
There are four different versions of the CyberChic Sex Doll: uncolored vagina, vibrating beige colored vagina, cinnamon colored vagina, and cyberskin mouth.
This doll is based on Raylene, the porn starlet, and can be used in fantasy sex play while watching her porn videos.
"Blow up love doll with insertable vagina and anus made from cyberskin. (cyberskin is a revolutionary new super soft realistic material). She also has an open mouth, long hair, and realistic breasts. The cyberskin sleeve can also be used as a masturbator separate from the doll." —Convergence Inc: CyberChic Sex Doll
"Raylene is your virtual reality Cyber Chic life size inflatable sex doll with dual purpose cyberskin masturbation sleeve! Her full pretty face with custom design 'deep throat' for oral satisfaction. Plunge you hard cock into the Cyberskin pussy and ass." —Discreet Online Shopping
"The cyberskin love doll is made of vinyl rubber and has special rubber molded breasts. The cyberskin vagina and anus are attached by a 9 inch tube. (In other words, if you penetrate the vagina far enough, you come out the anus!) The vagina can be taken out and used separately from the doll if you want. The cyberskin vagina and anus are made from a new super soft realistic material that is not like rubber. You have to try it to understand." —SexToySex.com

"The mouth is open and you can see it has room so that you could actually go through the head if your cock is that large. Also the cyberskin blowjob mouth has room to fit in that large mouth opening." —SexToySex.com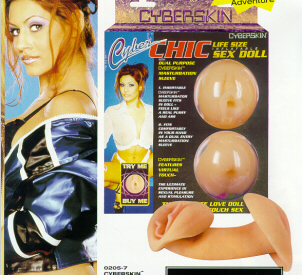 "Item# TS205 — Cyberskin Cyber Chic Doll DUAL ENTRY: Use the Cyberskin soft supple lips or anus to envelop your shaft as the tight inner walls snugly caress your penis. VIRTUAL TOUCH: Texture complete with full vaginal detail — feels like a real pussy and anus. OPEN END DESIGN: Allows for increased stimulation at the head of the penis as you thrust in and out. Heavy gauge vinyl doll inflates to life size. Full pretty face with custom design and deep throat for oral satisfaction. Raylene has soft, red-brown sexy hair and exciting curvaceous breasts." —SafeSexMall
"The ultimate love doll for virtual touch sex, experience in sexual pleasure and stimulation. Masturbation sleeve fits in doll — feels like a real pussy and ass. Fits comfortably in your hand as a dual entry masturbation sleeve. Includes Dual Purpose CYBERSKIN masturbation sleeve." —69 Adult Toys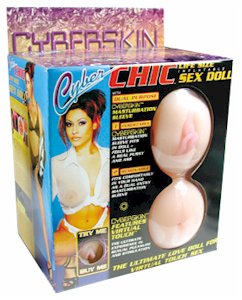 Vibrations: none
Clothing sizes:
dress:
bra:
corset:
panties:
shoe:


Material: vinyl with Cyberskin™ vagina and anus
Batteries Required: none
Manufacturer: TLC/Topco product #TO0205-7

"I love it. The doll is pretty. Well, that I bought and send me the store. The face isn't freaky, really is nice. The hair is pretty. At first time was difficult to blow in the mouth, was a bit small, but next with body heat oil (cinnamon) included delivery it was too much better.
"So, the Cyberpussy is really good, feels good, I enjoy it. The texture inner feels so good. Terrific!!!
"I used for a month, but when I get enthusiastic it, I exceed inflate and got a groove. So, right now I'm looking for help to get repair kit. If somebody knows please send me the address , please, I appreciate." —fandoll; e-mail; Apr 26, 2003
"As you may know there are various toys on the market which are made (partly) of the so called 'Cyberskin'.
"While the material feels great I must admit the doll was a bit of a disappointment. I own the Cyberskin 'Cyberpussy' which feels awesome! The texture on the innerside of the pussy (this is 'bigger' then a ordinary sleeve) feels so good when lube'd well, try it an enjoy it! But anyway, the doll:
"The doll is packaged in a mid-size box with a see-thru part which shows the pussy and anus of the insert sleeve. There is also a small part open so new buyers can 'feel' the material on a small sample of the cyberskin material. Ok, open up the box and what do You get? It's a 'full-size' doll—at least this is what the package says—well, you get a doll which was in my case a 'head' smaller.
"The doll has mahony (dark red?) coloured hair with a frontal wig, the back of the head is just plain brown vinyl. It has a face mask which tends to deform quite fast. Face is nice though, with good features, the mouth is open and is made from a rubber like sleeve which extends to the back of the head (at the back of the head is the other open end). The mouth was a bit too small for me as I couldn't insert my dick into it! No blowjobs so far.
"Breasts are nice and firm and made from plain heavy vinyl, nothing special. Hands and feet are also simply made, just vaguely formed.
"Now what should have been the best part: The pussy and anus sleeve. Well it's not as good as the mentioned 'Cyberpussy', it looks nice from the outside. Well formed lips and nice detail, on a closer examination I discovered something like a 'chamber' just behind the lips/entry part. This is again sealed by something which the lucky few may have seen on virgins :-) A tight seal with a small hole. The same on the anus. I don't know if this was done on purpose to create more friction on the shaft of the penis or???
"So, the first fuck! I blew it up and took a good look, nice doll and good shape. Took a bunch of lube put it on the bed and inserted my dick, slowly I started to fuck the doll but hey! I didn't feel anything special! This is the bad part: you can fuck it whatever you want but 'coming' is very difficult indeed, it was for me! As I said, this is completely due to the almost non-existing of any texture which makes it like fucking nothing.
"It's a nice doll, could have been better and if equipped with a better sleeve a terrific doll! Rating a 6 out of 10 (due to the bad texture on the sleeve)." —Doll Lover; E-Mail; November 6, 1999
"This doll is crap. All body parts are no way near lifelike and face is freaky! The only cyberskin is the pussy/anus which is a straight combined hole which is very akward to say the least. Worth half the money." —anonymous; e-mail; April 24, 2002
NOTE: The hair color seems to have changed since dolllover purchased his copy of this doll.
pictures donated by Doll Lover:
the face mask
the tits
the pussy sleeve in the doll
the front of the pussy
the ass part of the sleeve
"This doll was a disaster. At med-low price but still pricey I was better pleased by a standard feature doll. The head is basically deformed and is a real turnoff, one of the breasts did not inflate and the cyberskin pussy-ass was so anatomaly incorrect, things were difficult. It lays too flat its like pointing your dick downwards which is V. uncomfortable. Once at the right angle however the cyberskin was excellent but I no longer use the doll." —anonymous; E-Mail; February 5, 2002
If you have used this doll, please share your impressions through the feedback form provided below.

Adult Toy Reviews.com is not a store…We're better!
We are an independent consumer review site.
We offer links to more than a dozen on-line web stores.
Your purchase from any site marked with an † will help keep our independent consumer review service available and on the web. Or you can contact us to make a donation. Thank you for your participation.
List Price: U.S. $84.99
U.S. $59.00 SexToySex.com†
U.S. $68.95 Discreet Online Shopping†
U.S. $67.95 69 Adult Toys†
U.S. $78.95 SafeSexMall†
(see important notes below)
†Affiliate: Listings marked with a † are affiliates. If you decide to purchase from this source, please use the link provided. The use of this link will result in a token affiliate payment that will help keep this site on the web. We can't vouch for any affiliate's honesty and remain neutral about whom you should buy from.
NOTE: We can not vouch for the honesty of any of the listed sources. References to commercial sources and their prices provided as a courtesy to the reader. We do not work for any of these organizations. When comparing prices, remember to add in shipping and handling charges, taxes, and other fees. Prices and availability of specific items subject to change (if you notice that a price has changed or an item is no longer available from a listed source, please e-mail us).
some of the sources on the web:

premium sites

specialty sites

discount sites

general sites

Shopping through these links may result in a small percentage of your purchase helping keep this site on the web.
(Many of the sites have tricky rules, so we don't always get a percentage, but it can't hurt to try.).
This web page is about the CyberChic Sex Doll.

[ complete table of contents ] [ feature by feature comparison ]
[ home ] [ the inflatable doll experience ] [ price comparison ] [ links ]


other
privacy statement
Unlike most web sites, we inform our visitors about our privacy policy. AdultToyReviews.com does collect generic information from visitors for statistical analysis (nation, browser, operating system, screen resolution, and monitor size) — any web site you visit can and probably does collect this information (and more). All individual identification information is immediately discarded (except for subscription information if you join our mailing lists). Information is never sold to outside mailing lists or any other purposes.
feedback
Share information with other love doll enthusiasts. Give real user feedback on which dolls are good, which dolls are bad, and why. Let's replace advertising hype with solid information derived from actual experience.
All questions are optional. Pick and choose the ones you want to answer.
CyberChic Sex Doll
Some text and pictures copyright © Convergence Inc. Used by permission.
Copyright © 2000, 2001, 2002, 2003, 2005 contact00@AdultToyReviews.com
Last Updated: June 11, 2005
Created: August 27, 2000
Inflatable Doll Home Page
Author of CyberChic Sex Doll page: contact00@AdultToyReviews.com
If you write, please label your message as "CyberChic Sex Doll" to help separate it from SPAM (which gets tossed unread).

[ main toy home page ] [ toy info ] [ sorted by color ] [ sorted by material ] [ rabbits ] [ butterflies ] [ remote control ] [ strap-on harnesses ] [ dildoes ] [ double dildoes ] [ glass dildoes ] [ hands and fists ] [ vibrators ] [ massagers ] [ sleeves ] [ eggs and bullets ] [ clitoral stimulators ] [ waterproof vibrators ] [ anal probes and butt plugs ] [ beads ] [ breast pumps and nipple exciters ] [ balls ] [ erotic jewelry ] [ cock rings ] [ bondage ] [ lubricants, oils, and creams ] [ barriers ] [ hygiene ] [ erotic clothing ] [ transvestite items ] [ kits ] [ artificial vaginas ] [ male masturbators ] [ dolls ] [ penis pumps ] [ novelties ] [ DVDs ] [ videos ] [ books ] [ words ]
[ complete table of contents ] [ feature by feature comparison ]
[ home ] [ the inflatable doll experience ] [ price comparison ] [ links ]