Wahl 7-in-1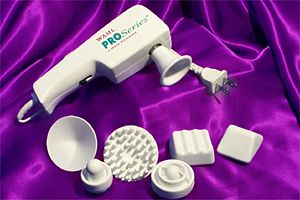 "Faster pussycat! This coil-operated wonder vibrates faster than the Hitachi wand, providing a more focused buzzing sensation. Without a doubt our quietest electric vibrator. 2 speeds, includes 7 attachments. 6-1/2" long." —Toys in Babeland
NOTE: Toys in Babeland is a premium site that only carries quality toys, so it means something that they carry this item.
Vibrations: two speed; quiet
Batteries Required: no (wall electricity power)
Manufacturer: Wahl
attachments
Attachments: 4" Straight, G-Spotter Plus, Hugger, Twig Attachment, Wally

"The Wahl 7-in-1 is the best vibe—ever. No more batteries, whisper quiet, a wide range of attachments and 2 perfect speeds. I just bought one for a friend!" —Colleen, quoted at Toys in Babeland
"I like this vibe because it is so steady and quiet. My roommates don't hear it, and I've had the same one for almost a decade. It's quality." —Jill, quoted at Toys in Babeland
"Do you have kids or roommates? The quietest vibe EVER. Reliable, strong. Discover its own attachments or turn your favorite dildo into a vibrator with its suction cup attachment." —from the Sex Educators, quoted at Toys in Babeland
"Have had one of these for about 28 years now. Yes, the same one. I would call it durable and reliable! Also capable of making one come in about 5 min. flat." —Kimberly, quoted at Toys in Babeland
"I had one before—simple massager I used on 'muscle aches'. Sure, whatever. It worked, and since then, the other vibes just don't cut it. I introduced it to my wife, and now, we joke that it makes her pray to a God she doesn't even believe in! It is quick and packs a bang—will make your girl writhe all over the place. When she comes back to her senses, she'll thank you!" —Atlas, quoted at Toys in Babeland
"This is my first vibrator. It doesn't look very sexy but it sure feels good. And you don't have to worry about somebody finding it because it can pass for a regular old neck massager. The two speeds are great, you can get all warmed up and then let her rip. Check out the great attachments that you can buy…you can get more for your money with this one." —Katie, quoted at Toys in Babeland
"This baby is grrrreat… the only problem being that it works for mainly just clit stimulation. This can be remedied with your finger but well… also the body of the massager gets hot after maybe 1/2 hour of constant use… its a little toasty on the inner thigh… but other than that it gives BEAUTIFUL results!" —Lyndsey, quoted at Toys in Babeland
"One word to describe this toy… AMAZING! I've had this for YEARS, and I LOVE IT! Before using it, I wasn't able to cum more then once, but with this, I cum over and over and OVER again. My partner and I really love it!" —K.P., quoted at Toys in Babeland
"I've tried many many vibes. They break, or aren't strong enough, or make so much noise I can't concentrate. "Wahlly" is wonderful. Quiet, strong, and won't break." —Violet, quoted at Toys in Babeland
"I just recently purchased the Wahl 7-in-1 and all I have to say is… WOW! It really packs a punch. In fact, to use it I need to keep a piece of clothing between the Wahl and myself. When the battery powered ones just won't cut it, this *strong* vibrator is the one." —Louise, quoted at Toys in Babeland
"I heard great things about this one and tried it out. Three words: oh my lord! It's AMAZING! Really great. The two speeds are perfectly gauged and stimulate differently. Now I don't mind so much that my boy is so far away!" —Samantha, quoted at Toys in Babeland
"I've never done a review on a sex apparatus before but it's about time I did! Wow… the Wahl is amazing, especially with my girlfriend's fingers inside me just before I cum. It is quite an 'aggressive' device until you learn to 'moderate'. I usually start with my fingers for a bit and proceed slowly from there…but not always. I've had orgasms in minutes and more and more!! My girlfriend and I use toys to supplement our sex life. It's fun…plain and simple." —Ricki and Kel, quoted at Toys in Babeland
"As everyone else says, yes, it's VERY quiet. It's also got a sure grip, which is helpful if you'll need to keep it going a while—the shape is very comfy in your hand. And the things you can do with those 7 attachments…" —Diane, quoted at Toys in Babeland
"This is the best ever. When nothing else will do the trick, this "jackhammer" will! works great if you have some desentization due to prescription drugs. Just when I thought all hope was gone…" —Julie, quoted at Toys in Babeland
"This handy little gizmo is usually barely audible, but gets a teeny bit louder if you're having a long session without turning it off. Some may be too sensitive for such strong vibrations, but you don't have to worry about spending half your income on batteries, or having it break 3 months after you buy it. Mine lasted a good 2 and a half years before it had to go. Electric is the way to go for reliability, as the vibrations don't dim with a fading battery, and this one has plenty of attachments when you want to change the routine a bit (I wonder if anyone actually *uses* the scalp massager). If you need to get off, this baby is true blue and won't let you down." —Chrissy, quoted at Toys in Babeland
"As a boy in 6th grade, I found my mother's "hand held massager" similar to this one and my sex life has never been without. Through trial on myself and many girlfriends, never have we been dissapointed. Sure, constant stimulation produces quick,intensely strong orgasms for both sexes." —Boy X, quoted at Toys in Babeland
If you have used this toy, please share your impressions through the feedback form provided below or e-mail direct to contact00@AdultToyReviews.com.

Adult Toy Reviews.com is not a store…We're better!
We are an independent consumer review site.
We offer links to more than a dozen on-line web stores.
Your purchase from any site marked with an † will help keep our independent consumer review service available and on the web. Or you can contact us to make a donation. Thank you for your participation.
U.S. $36.00 Toys in Babeland†
(see important notes below)
Adult Toy Reviews helps you compare sex toys from a wide variety of sources.
†Affiliate: Listings marked with a † are affiliates. If you decide to purchase from this source, please use the link provided. The use of this link will result in a token affiliate payment that will help keep this site on the web. We can't vouch for any affiliate's honesty and remain neutral about whom you should buy from.
NOTE: We can not vouch for the honesty of any of the listed sources. References to commercial sources and their prices provided as a courtesy to the reader. We do not work for any of these organizations. When comparing prices, remember to add in shipping and handling charges, taxes, and other fees. Prices and availability of specific items subject to change (if you notice that a price has changed or an item is no longer available from a listed source, please e-mail us).
some of the sources on the web:

premium sites

specialty sites

discount sites

general sites

Shopping through these links may result in a small percentage of your purchase helping keep this site on the web.
(Many of the sites have tricky rules, so we don't always get a percentage, but it can't hurt to try.).

[ home ] [ toy info ] [ sorted by color ] [ sorted by material ] [ rabbits ] [ butterflies ] [ remote control ] [ strap-on harnesses ] [ dildoes ] [ double dildoes ] [ glass dildoes ] [ hands and fists ] [ vibrators ] [ massagers ] [ sleeves ] [ eggs and bullets ] [ clitoral stimulators ] [ waterproof vibrators ] [ anal probes and butt plugs ] [ beads ] [ breast pumps and nipple exciters ] [ balls ] [ erotic jewelry ] [ cock rings ] [ bondage ] [ lubricants, oils, and creams ] [ barriers ] [ hygiene ] [ erotic clothing ] [ transvestite items ] [ kits ] [ artificial vaginas ] [ male masturbators ] [ dolls ] [ penis pumps ] [ novelties ] [ DVDs ] [ videos ] [ books ] [ words ]
privacy statement
Unlike most web sites, we inform our visitors about our privacy policy. AdultToyReviews.com does collect generic information from visitors for statistical analysis (nation, browser, operating system, screen resolution, and monitor size) — any web site you visit can and probably does collect this information (and more). All individual identification information is immediately discarded (except for subscription information if you join our mailing lists). Information is never sold to outside mailing lists or any other purposes.
feedback
Share your experiences with other women. Give real user feedback on which toys are good, which toys are bad, and why. Let's replace advertising hype with solid information derived from actual experience.
All questions are optional. Pick and choose the ones you want to answer. Or use ordinary e-mail, at contact00@AdultToyReviews.com.
This web page is about the Wahl Seven-in-One.

Copyright © 2002, 2003 AdultToyReviews.com
Last Updated: April 31, 2003
[ home ] [ toy info ] [ sorted by color ] [ sorted by material ] [ rabbits ] [ butterflies ] [ remote control ] [ strap-on harnesses ] [ dildoes ] [ double dildoes ] [ glass dildoes ] [ hands and fists ] [ vibrators ] [ massagers ] [ sleeves ] [ eggs and bullets ] [ clitoral stimulators ] [ waterproof vibrators ] [ anal probes and butt plugs ] [ beads ] [ breast pumps and nipple exciters ] [ balls ] [ erotic jewelry ] [ cock rings ] [ bondage ] [ lubricants, oils, and creams ] [ barriers ] [ hygiene ] [ erotic clothing ] [ transvestite items ] [ kits ] [ artificial vaginas ] [ male masturbators ] [ dolls ] [ penis pumps ] [ novelties ] [ DVDs ] [ videos ] [ books ] [ words ]