Fukuoku 9000

Fukuoku 9000
sources: U.S. $23.95 Libida†
"You've seen it on TV commercials relieving headaches, but the Fukuoku's real talent is adding vibration to your sexual repertoire simply and non-intrusively. Slide the tiny, cordless Fukuoku right onto your fingertip and incorporate vibration into partner sex or masturbation as naturally and easily as you would touch yourself. Because the Fukuoku runs on powerful watch batteries, the soft vinyl tip packs a quiet-but-mighty buzz." —Libida
"one speed, plastic and vinyl 2-3/4" x 1"." —Libida
NOTE: Libida is a premium site that only carries quality toys, so it means something that they carry this item.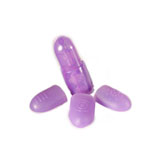 Color: blue "Colors May Vary Depending On Supply" —Libida
Batteries Required: 2 watch batteries (included)


"I received my Fukuoku after hearing both good and bad reviews, so I wasn't sure what to expect. When I opened up the package I was surprised at how nice it was and the quality. It easily fit my finger and I didn't feel like it was going to move, or fall off. The vibrations aren't super intense, but are a nice in-between speed. It's pretty quiet, and the different tips change up the sensations. I think this toy is great, and has added a new aspect to my sex life especially with my partner!" —Anonymous
"I didn't realize that such a small little thing could produce such big results! I decided to purchase the Fukuoku when I thought that I wasn't getting enough clitoral stimuation during sex. I wanted something small enough to not interfere, but powerful enough to get the job done, and the Fukuoku definitely does the trick. It fits on my finger comfortably, and I hardly notice the vibrations on my finger. The tips are great, my personal favorite is the one with the horizontal ridges, although they each give a unique sensation. Although I was compelled to buy the Fukuoku for partner sex, it is definitely a great solo toy as well." —Anonymous
"I really like the discreet appearance and size of the Fukuoku. It doesn't really look that much like a sex toy, which is nice for traveling. I found it too intense for direct clitoral stimulation, but enjoyed using it elsewhere on my body and for indirect stimulation (wrapping it in a washcloth worked wonders). My boyfriend really likes it and the small size makes it a great accompaniment to sex — for clitoral stimulation, nipples (yours or his), and other sensitive areas. (Remarkably enough, it's also not too bad at its supposedly intended purpose of relieving head/neckaches.)" —Leah
"I am generally pleased with the Fukuoku 9000. Although it is not the surefire way to orgasm that I wanted, it definitely heats my girl up. Although the different tips were a bit too aggressive, we found that the smooth surface (without a tip) was the best way. The clasp never falls off my finger and it stays right with me. The two watch batteries are a huge difference as well! It's powerful, quiet and always does its job. I definitely recommend!" —Anonymous
"This product was a complete disappointment to me. It is nice and small, but just not strong enough to do the job for me." —RLM in Nevada
"This small vibrator is very satisfying. We are buying a second one to keep in our vacation home. The only problem is that the covers slip off. We just use it without them." —Anonymous
"Wow, I have not been able to fully masturbate myself for a long time now and when I saw this vibrator on your web site I got so excited. I had these a long time ago and knew they worked for me. So I ordered them right away and as soon as they came in, I had a wonderful masturbation sessions with lots or orgasms!!! Now when I talk with my boyfriend that lives out of state, we can both go all the way to orgasm instead of just him. That is really cool and feels a lot better, and also helps in the intimacy department. Thank you for carrying this product. I recommend it to any woman that is having a problem with making it to an orgasm. Just try these little vibrators, you will be astounded at the big clitoral orgasms you will get with them." —Denise
"I was honestly surprised at how user-friendly this vibrator is. It fits pretty well on any finger you care to use, and you don't have to worry about it sliding off. The different attachments were a bit odd, and didn't add anything too exciting. All in all, a very compact easy-to-use vibrator." —Anonymous
"This vibe is the best. It a magic finger tip with a powerful enough buzz to give some really nice pleasure. It's not loud and you're other fingers get secondary vibrations too. I highly recommend to all, especially those who are buying their first vibe." —Anonymous
"First Impressions:
"As someone who seems to spend half her life telling people, size doesn't count when it comes to enjoyable sex, I was actually a little taken a back by just how small the Fukouko was. At only 2 3Ž4 inches high and an inch across it doesn't look like much for the money. It does come with a neat little belt wallet though and a couple of accessories. I also like the fact that this toy came with the watch batteries already installed and a couple of spares, (So I'm cheap but one thing's for sure batteries aren't!)
"Solo play:
"Once I finally got it out of the packaging, I was actually pleasantly surprised by just how powerful this toy was when I first turned it on. The idea is you place it over the finger that you would normally use to masturbate. It actually sat pretty well on my finger and with a little adjustment I found the most comfortable position for me. I don't have particularly large fingers but even if I had the strap that you attach this with would accommodate it as it stretches via what appears to be a pretty strong spring system.
"Another thing that immediately struck me was how quiet this toy was. I've yet to find the silent vibrator but this came pretty close. It also comes with three different sheaths that you place over the main toy and these can vary the sensations you receive. My personal favorite was the one with small knobbles on it, for me this seemed to deliver the best/ most intense sensations of the three. It took me a while to get used to the concentrated vibrations against my finger but as soon as I applied it to my nipples and clitoris I soon forgot about them.
"It also took me a while to perfect my technique, because the toy was unlike anything else I'd experienced before I had to adjust my way of masturbating. I've never been a lover of direct clitoral stimulation instead preferring concentrated vibration on my pelvic bone and the area surrounding my clit. The fact that this toy is so small made it easy for me to accurately apply pressure only to the areas that I was comfortable with, unlike with many of the larger vibrators. Adding a little lube also intensified the experience for me, although this wasn't necessary in order for me to enjoy this toy.
"Another plus was how easy it was to clean this toy. Because the sheaths were easy to separate from the main toy, it was simply a case of cleaning these with soap and water.
"Partner play.
"This toy was great from the point of view that I was able to easily use it while having penetrative sex. Because it was basically just an extension of the finger I would normally use to stimulate my clit whilst having partner sex it was easy to get the right buzz. Like they say practice makes perfect and it did take a while to find and hit the right spot for us both to enjoy this toy. One thing we both enjoyed was the fact that I could stimulate his balls and anus with ease and because it was small my hand didn't get tired as it does with some toys. We also tried changing roles with him wearing the toy. This made for an interesting experiment and made things a little more exciting for me as I never quite knew what spot he was going to hit or when.
"If your guy is a little toy shy then this might be a great way to introduce him to the pleasures of mutual toy play. It's not shaped like a penis, something that many men find off putting when it comes to toys." —Jenne, Clitical.com
"I purchased this for solo use but found I like it best when used with my partner. It took a little getting used to because I've never used a toy with a partner, but this is so small and unobtrusive that it made it easy for me or him to stimulate me while we have sex. I like using a little lube with it. It gets him excited when I use it because he can feel the vibrations against his shaft and gives me great orgasms!" —Anonymous
"I fell for the Fukuoku hype and was sorely disappointed. The vibrations were weak, and ultimately frustrating. The battery ran out very quickly, and with the price of button batteries you'd end up doubling this toy's price in about a month. I should have known better; the best vibrators are AC or eat up the batteries. Don't expect much from anything that runs on a watch battery." —Debbie; e-mail; May 2, 2002
"The toy would be good i suppose, if your in the mood, otherwise it's likely to send you to sleep. more of a massage thing."
If you have used this toy, please share your impressions through the feedback form provided below or e-mail direct to contact00@AdultToyReviews.com.


Adult Toy Reviews.com is not a store…We're better!
We are an independent consumer review site.
We offer links to more than a dozen on-line web stores.
Your purchase from any site marked with an † will help keep our independent consumer review service available and on the web. Or you can contact us to make a donation. Thank you for your participation.
(see important notes below)
Adult Toy Reviews helps you compare sex toys from a wide variety of sources.
†Affiliate: Listings marked with a † are affiliates. If you decide to purchase from this source, please use the link provided. The use of this link will result in a token affiliate payment that will help keep this site on the web. We can't vouch for any affiliate's honesty and remain neutral about whom you should buy from.
NOTE: We can not vouch for the honesty of any of the listed sources. References to commercial sources and their prices provided as a courtesy to the reader. We do not work for any of these organizations. When comparing prices, remember to add in shipping and handling charges, taxes, and other fees. Prices and availability of specific items subject to change (if you notice that a price has changed or an item is no longer available from a listed source, please e-mail us).
some of the sources on the web:

premium sites

specialty sites

discount sites

general sites

Shopping through these links may result in a small percentage of your purchase helping keep this site on the web.
(Many of the sites have tricky rules, so we don't always get a percentage, but it can't hurt to try.).

[ home ] [ toy info ] [ sorted by color ] [ sorted by material ] [ rabbits ] [ butterflies ] [ remote control ] [ strap-on harnesses ] [ dildoes ] [ double dildoes ] [ glass dildoes ] [ hands and fists ] [ vibrators ] [ massagers ] [ sleeves ] [ eggs and bullets ] [ clitoral stimulators ] [ waterproof vibrators ] [ anal probes and butt plugs ] [ beads ] [ breast pumps and nipple exciters ] [ balls ] [ erotic jewelry ] [ cock rings ] [ bondage ] [ lubricants, oils, and creams ] [ barriers ] [ hygiene ] [ erotic clothing ] [ transvestite items ] [ kits ] [ artificial vaginas ] [ male masturbators ] [ dolls ] [ penis pumps ] [ novelties ] [ DVDs ] [ videos ] [ books ] [ words ]
privacy statement
Unlike most web sites, we inform our visitors about our privacy policy. AdultToyReviews.com does collect generic information from visitors for statistical analysis (nation, browser, operating system, screen resolution, and monitor size) — any web site you visit can and probably does collect this information (and more). All individual identification information is immediately discarded (except for subscription information if you join our mailing lists). Information is never sold to outside mailing lists or any other purposes.
feedback
Share your experiences with other women. Give real user feedback on which toys are good, which toys are bad, and why. Let's replace advertising hype with solid information derived from actual experience.
All questions are optional. Pick and choose the ones you want to answer. Or use ordinary e-mail, at contact00@AdultToyReviews.com.
This web page is about the Fukuoku 9000.

Copyright © 2001, 2002, 2003, 2005 AdultToyReviews.com
Last Updated: June 8, 2005
[ home ] [ toy info ] [ sorted by color ] [ sorted by material ] [ rabbits ] [ butterflies ] [ remote control ] [ strap-on harnesses ] [ dildoes ] [ double dildoes ] [ glass dildoes ] [ hands and fists ] [ vibrators ] [ massagers ] [ sleeves ] [ eggs and bullets ] [ clitoral stimulators ] [ waterproof vibrators ] [ anal probes and butt plugs ] [ beads ] [ breast pumps and nipple exciters ] [ balls ] [ erotic jewelry ] [ cock rings ] [ bondage ] [ lubricants, oils, and creams ] [ barriers ] [ hygiene ] [ erotic clothing ] [ transvestite items ] [ kits ] [ artificial vaginas ] [ male masturbators ] [ dolls ] [ penis pumps ] [ novelties ] [ DVDs ] [ videos ] [ books ] [ words ]