Jack Rabbit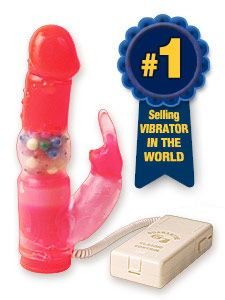 also known as Wascally Rabbit
Category: clitoral stimulator and vibrator
Note: This is the best selling sex toy in the world, but this is the result of marketing momentum, not actual quality. There are many much better made rabbits available. See the list below for alternative rabbits.
"The Famous Jack Rabbit Vibrator with it's rotating beads and turbo powered duel-control multi-speed battery pack for incredible sensations." —Shop Giggles World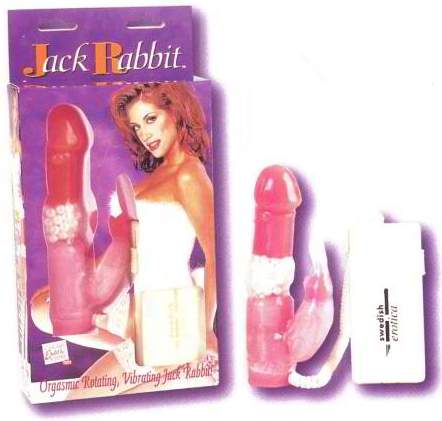 "This vibrator comes with a multispeed function and moving pearl stimulation to enhance your sexual experience. This rabbit has 2 vibrating ears to pleasure your clit like never before. Your pussy will thank you for this gift!" —Discreet Online Shopping
Number one (1) best selling toy overall at Discreet Online Shopping as of April 2003. Note that top selling products are not necessarily the best toys. Sales can be strongly influenced by promotions, advertising, marketing, and other factors that have nothing to do with quality.
"Jack Rabbit Dual control, multi-speed vibrator. Featuring beads in the shaft that rotate as the rabbit ears vibrate. It squirms, it vibrates, and boy, does it burrow! Uses 3 C batteries (not included)." —Erotic Shopping
"Here it is ladies! The Jack Rabbit Vibrator made famous on HBO's Sex In The City. Now you can FEEL exactly what all the BUZZ is about! This toy tempts and teases with three distinctly different features: 1-a multi-speed, vibrating, jelly tip, 2-a base full of rotating beads, and 3-a rabbit shaped clit tickler. Each of these would be an exotic enticement on its own, but when combined, this tantilizing trio is the culmination of ecstasy itself! And just when you thought it couldn't get any better … this private piece of perfection is now on sale! Marked down to likely the lowest price you'll find anywhere!" —Shop Giggles World
Rabbits: Rabbits feature three basic parts: (1) a little vibrating plastic rabbit (hence, the name) that stimulates the clitoris (sometimes the ears vibrate, sometimes the whole rabbit vibrates), (2) a cylinder vibrator for insertion into the vagina for G-spot stimulation (in couple's rabbits, this part is replaced by a hole for the male penis), and (3) beaded pearls that spin to stimulate the vaginal lips (not all rabbits have this part).
Special Features: rotating beads
Vibrations: powerful; multi-speed
Batteries Required: Three (3) C cells

Manufacturer: California Exotic Novelties (formerly Swedish Erotic)
rabbits


"This is a great addition to my toy collection. I love how fast it made me cum." —from seattle quoted at Discrete Online Shopping on 18 November 2004
"after reading the feedbacks i decided to order the jack rabbitt. now i know why everyone says OMG. what a great orgasm! it will be on my bedside table for sure!" —anonymous; e-mail; June 28, 2004
"jack is my new best friend wow better than some of the guys i've gone with" —julia quoted at Shop Giggles World
"Unfucking real. Adds a ton to our sex life. Love to have hubby fuck me for a while, I then jerk him off on the rabbit to make it good and slippery. Then he finishes the job using the toy. We both get involved with this little guy." —Kerrie quoted at Shop Giggles World
"Just 3 words… OH MY GOD!!!" —Diabla quoted at Shop Giggles World
"Oh, this bunny is soooo gooood. I use him 4 or 5 times daily !! I have never came this many times in my life !! Try it ladies." —4H Heiffer quoted at Shop Giggles World
"I am really not one to take pleasure in dildos, but the Jack Rabbit is has opened my eyes to an entirely new prospective. The orgasm that I experienced was simply lovely and it was well worth the money indeed. I can't seem to put the toy down; I just got Jack a few days ago and I am more satisfied in sex then I've ever been." —Shelly quoted at Shop Giggles World
"I have bought many vibrators before. But this one! I can't wait to get home sometimes. I will send my children outside in the backyard or the playroom just so that I can have a quick release if you know what I mean. I have NEVER had an orgasm before this! Never. I was so dissapointed in sex. Still am. But I have the RABBIT now. I broke the first one and cried. I ran out and bought another one. That clit massager. OMG. OMG. It is the man!" —sharon quoted at Shop Giggles World
"This product is amazing! I was a bit skeptical at first because I was totally against using sex toys but my boyfriend broaden me into different things. This was my first time ever using a vibrator and this is freaking great!! It looks soft but looks are very deceiving. When my boyfriend tried "him" out on me, sheeeittt, I was in love :). It is worth the wait, money and the satisfaction. I wish I could rate higher than a five!" —Sweet Peaches quoted at Shop Giggles World
"I bought this for my wife right before we got married, and I can't believe how our love life has changed since then. The bedroom isn't the same anymore thank goodness, she is so hott and horny and wet for it and for me all the time. Thanks" —Chris quoted at Shop Giggles World
"I decided to buy my first toy around Easter, so keeping with the holiday theme, I bought the rabbit. WOW! Within 2 minutes I am cumming like I've never cum before. It gives the most intense orgasms! No man has ever come close to doing to me what my rabbit does. Sorry boys." —Meagan quoted at Shop Giggles World
"I am in Brazil and meet many horny girls. I have several of the best vibrators, even a $ 1200 Sybian. Until someone brought be the Jack Rabbit. Unanimous decision, but about 10 girls who tested it so far. It beats the Sybian, the Accuvibe, the Pocket Rocket, … Most come in a matter of 90 seconds. Amazing!!" —Mario quoted at Shop Giggles World
"I got a slip in my mailbox yesterday that I had a package to pick up at the post office. I went today on my lunch break and there was my rabbit. I had about 15 minutes until I had to head back to work so I stopped by my house and took it out of the box. I've never owned, bought or used a toy before so I was kind of curious, I wanted to use it! As soon as those little ears hit my clit I could feel an orgasm starting. In two minutes I was writhing all over my bed, wrinkling up my clothes and mussing my hair. By the time I got back to work (late!) my face was flush, my clit was tingling, I was grinning and I was hornier than I've ever been. I got looks from people who I'm sure thought I had gone out for lunch time quickie. I can definitely tell you I'll be going home for lunch more often now!" —Jennifer quoted at Shop Giggles World
"Well this is the first time i have ever bought a toy, for myself…And OMG…Can i say it agian OMG…Well when it first came in the mail. I used it …It did it's job,but it wasn't what i was really was craving for, until my husband came home. and i told him i had got it today…And what a time we had. We tried it with the jack rabbit inside and him at the same time, while the little bunny ears were having fun with my clit, it was the most amazing feeling for me and my husand both…We both came many many times…Also for all the men out there…this is a great toy for yall 2…Have your girl play with it with you on your balls and tip of your dick…My husband LOVED IT…Also with this one you need alot of lube!!!I give this Mr Jack Rabiit a MAJOR 10." —Chelsea quoted at Shop Giggles World
"Love it, love it, love it. My husband came home to find the package on the doorstep and couldn't wait to use it on me! The way it wiggled around and the clit stimulation from the little rabbit sent me over the edge! We HIGHLY recommend this addition to anyone's toy chest!" —K quoted at Shop Giggles World
"UNBELIEVABLE!!!!!!!!!!!!! I ordered the jack rabbit and received it yesterday, and me and my husband tried it as soon as he came home from work! He had so much fun using it on me. It was unbelievable, I recomend this one to anyone! You need this one in your bag! I came several times with it (and I just tried it). WOW! even for anyone that has never tried toys before, get it." —debbie quoted at Shop Giggles World
"I got the rabbit over 8yr ago and it was the greatest I payed over $70.00 for it. It was good for that money and now the price is even lower after being married to a Navy man who went out of town alot I had to keep my self busy and this did the job. He came home and I was too happy with my new toy to need him so much. It is the best vibrator and I use a few you will never want another one after having this one. I had to get a new one after all this time they don't last forever sad to say but the price is great." —Carolyn quoted at Shop Giggles World
"My friend Jack as I like to call him, was my first toy I ever used or tried and oh boy let me tell you… For a first timer… It was MIND BLOWING!!!! I highly recommend the jack rabbit to anyone and everyone!" —miss vixen quoted at Shop Giggles World
"OMG!! THIS FEELS SOO GOOD!!! WHEN MY BF USES IT ON ME IT JUST SENDS ME INTO HEAVEN!!! THE HIGHER THE VIBRATIONS GET THE MORE I SQUIRM AROUND!! MY BF LOVES WATCHING ME SQUIRM MORE AND MORE AS HE TURNS UP THE VIBRATIONS!! WHEN THE EARS HIT MY CLIT … OMG!! AND THERE IS NO NEED TO MASSAGE YOUR PUSSY, THE JACK RABBIT DOES IT FOR YOU!! THIS IS A MUST TRY THING!! ESPECIALLY IF YOU HAVE A BF, LET THEM ENJOY MOVING THE CONTROLS ON YOU!! HEAVEN!!!!" —OMG!!! quoted at Shop Giggles World
"OH MY GOSH!!!!! This is the best "adult toy" I have ever tried. This is a must for all couples and solo too!!! It hits all the right spots. I had a great organsm with this. You have to try it. It will be my favorite for quite along time!!!" —Excited quoted at Shop Giggles World
"My wife and I caught wind of the JACK RABBIT in a chat room. We just had to try it. WOW!!! It really is a great feeling watching her SQUIRM in my arms. I can't wait to use it on her the next time, and the next time, and the next time. Now she has 5 of her co-workers wanting one." —Chris quoted at Shop Giggles World
"I LOVE THE JACK RABBIT!! I cannot BELIEVE how wet and hot it got me. I've never had so many orgasms when using a vibrator. Girls-no need to spend a night alone again! Get one of these and you won't worry about having a man in your life!" —Jennifer quoted at Shop Giggles World
"My wife and I had started using vibrators a few years ago to put some excitement into our love-making. At first she enjoyed them and would let me fuck her with one before or during sex. After a few times with the same vibrator it got to the point where she could just not cum with one. So off to the adult store and I would surprise her with another which may or not satisfy her. She finally told me to quit wasting money on vibrators and such. On our 14th anniversary I finally talked her into letting me bring home the Jack Rabbit. She said but only today because it is something that she knew I enjoyed watching her orgasm with her toys. Well she came so quick and so hard that I could not believe it. My arms and hands did not have to do any work. She just bragged on how amazing it felt. Well now she wants me to buy another one, just in case this one were to break. She really loves the rabbit ears. Thanks for such a wonderful toy. I love to watch her jerk with each mind blowing orgasm that she jerks out." —Jack quoted at Shop Giggles World
"THE JACK RABBIT, WOW!!!!!!!! MY GIRL FRIEND LORIE CAN'T PUT IT DOWN. WE PICKED IT OUT AS HER NEW TOY AND SHE USES IT 3, 4, EVEN 5 TIMES A DAY. SHE EVEN CALLS ME AT WORK TO LET ME LISTEN TO HER SLIDING IT IN HER PUSSY. WHEN THOSE EARS HIT HER CLIT SHE JUST GOES WILD AND CAN'T WAIT TO DO IT AGAIN. IT HAS TURNED HER INTO A WILD SEX ANIMAL AND SHE CAN'T WAIT TILL I GET THERE TO USE IT ON HER. IT REALLY PUTS HER ON ANOTHER PLANET. YOU SHOULD SEE HER JERKING ORGASAMS. I AM SUPRISED THE NEIGHBORS HAVEN'T COMPLAINED ABOUT THE NOISE SHE MAKES. IF THEY ONLY KNEW, THEY WOULD HURRY TO GET ONE OF THEIR OWN." —bob quoted at Shop Giggles World
"As for the Jack Rabbit, I absolutely love it. It's incredible. It's great the way it feels when the ears vibrate against my clit and how is expands and rotates inside me while the little beads massage my vaginal opening. Never came soo quickly with anything else. I love sticking it in my pussy. It is incredible. I just can't seem to put it down…I just keep cummin over and over. Best organism I ever had!!! My boyfriend and I use it quite often and he loves watching me. We both enjoy it very much especially when HE uses the controls on MEEE. Ohhh my goddddddd!! It feels wonderful and I would never ever be without my Jack Rabbitt. Don't forget the batteries, always keep some extra ones around! Best money I ever spent!!!" —Lorie Ann quoted at Shop Giggles World
"My wife and I have used many vibrators and toys during foreplay and she has had occasional difficuity acheiving orgasms with toys…. Our first use of Mr. Rabbit lasted about 3 minutes. She had the quickest orgasm ever! She remarked that it is much better when someone else controls the action… After her first of many, I asked her "what did you think about Mr. Rabbit?". Her reply — "OMG — wonderful". I was a bit surprised that she liked the penetration and motion because she normally does not like a lot of penetration during oral sex. She really seemed to like Mr. Rabbit's motion in her vigina and the beads caressing her vaginal opening. The rabbit worked wonders on her clitoris. Those ears do a number on the man in the boat! A great prelude to fantastic lovemaking!!" —Karl quoted at Shop Giggles World
"My husband ordered the Jack Rabbit for me to take me to a new realm of ecstacy !!!!!!! Boy did he ever get me there over & over & over!!! No other vibrator would ever meetup to it's qualifications !!!" —Pam quoted at Shop Giggles World
"I ordered the Jack Rabbit for my wife at the advice of a personal friend. She tried it and then told me three things about it. 1) We can never run out of batteries again. 2) I'm going to buy one for all of my friends. 3) It brought tears to my eyes. Yes, this is the real deal ladies." —Rick quoted at Shop Giggles World
"My God I love shoving this jack rabbit vibrator up my pussy…. it feels so fucking good when I cum over and over again all over the vibrating toy. It's perfect for girls like me who don't have a man. The Jack rabbit is so good, I don't need a man!!!!!" —Laura Posey quoted at Shop Giggles World
"My girl LOVES it! We have tried about 6 other regular types of vibrators trying to find the right one. I could tell she enjoyed this one far, far more than the others as soon as the rabbit ears made contact. I haven't seen her react that way to any other vibrator we've tried. The Jack Rabbit pushed her over the edge in less than 3 minutes. EXCELLENT PRODUCT!" —Gary quoted at Shop Giggles World
"WOW!!!!!!!!!!!!" —susie quoted at Shop Giggles World
"This rabbit is incredible. I've never come so much with anthing else. I love just having the rabbit on my clit to make me fucking come and come over and over again. It's fucking awsome!" —Holly quoted at Shop Giggles World
"Ohhhh Myyyyyy!!! When I'm traveling on the road this is my constant companion. Never found anything better. The rotating beads send me into utter ectasy. A real 5." —Bonnie quoted at Shop Giggles World
"I have never enjoyed something so much as i do using the jack rabbit. My husband and I have such a great time with this thing. He enjoys seeing my body writh and twitch with orgasm while i enjoy my the sensation my whole body gets from it. Not only does it provide your clit with continuous vibrations and attention your vagina can be penetrated with a rotating dong that contains beads which are also rotating within the vibrator. On a scale of 10, the Jack Rabbit gets a 13 in my book!!!" —Brandy quoted at Shop Giggles World
"I've never had better orgasms than with this vibe. I never leave home without using at least once. i love fucking myself with this thing, it spins, it pulses, it vibrates, and it makes me CUMMM!!" —Stacy quoted at Shop Giggles World
If you have used this clitoral stimulator, please share your impressions through the feedback form provided below or e-mail direct to contact00@AdultToyReviews.com.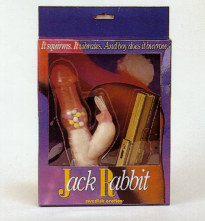 Adult Toy Reviews.com is not a store…We're better!
We are an independent consumer review site.
We offer links to more than a dozen on-line web stores.
Your purchase from any site marked with an † will help keep our independent consumer review service available and on the web. Or you can contact us to make a donation. Thank you for your participation.
List Price: U.S. $45.99
U.S. $24.00 Shop Giggles World†
U.S. $24.95 Discreet Online Shopping†
U.S. $35.99 Erotic Shopping†
(see important notes below)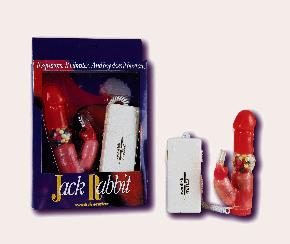 Adult Toy Reviews helps you compare sex toys from a wide variety of sources.
†Affiliate: Listings marked with a † are affiliates. If you decide to purchase from this source, please use the link provided. The use of this link will result in a token affiliate payment that will help keep this site on the web. We can't vouch for any affiliate's honesty and remain neutral about whom you should buy from.
NOTE: We can not vouch for the honesty of any of the listed sources. References to commercial sources and their prices provided as a courtesy to the reader. We do not work for any of these organizations. When comparing prices, remember to add in shipping and handling charges, taxes, and other fees. Prices and availability of specific items subject to change (if you notice that a price has changed or an item is no longer available from a listed source, please e-mail us).
some of the sources on the web:

premium sites

specialty sites

discount sites

general sites

Shopping through these links may result in a small percentage of your purchase helping keep this site on the web.
(Many of the sites have tricky rules, so we don't always get a percentage, but it can't hurt to try.).

[ home ] [ toy info ] [ sorted by color ] [ sorted by material ] [ rabbits ] [ butterflies ] [ remote control ] [ strap-on harnesses ] [ dildoes ] [ double dildoes ] [ glass dildoes ] [ hands and fists ] [ vibrators ] [ massagers ] [ sleeves ] [ eggs and bullets ] [ clitoral stimulators ] [ waterproof vibrators ] [ anal probes and butt plugs ] [ beads ] [ breast pumps and nipple exciters ] [ balls ] [ erotic jewelry ] [ cock rings ] [ bondage ] [ lubricants, oils, and creams ] [ barriers ] [ hygiene ] [ erotic clothing ] [ transvestite items ] [ kits ] [ artificial vaginas ] [ male masturbators ] [ dolls ] [ penis pumps ] [ novelties ] [ DVDs ] [ videos ] [ books ] [ words ]
privacy statement
Unlike most web sites, we inform our visitors about our privacy policy. AdultToyReviews.com does collect generic information from visitors for statistical analysis (nation, browser, operating system, screen resolution, and monitor size) — any web site you visit can and probably does collect this information (and more). All individual identification information is immediately discarded (except for subscription information if you join our mailing lists). Information is never sold to outside mailing lists or any other purposes.
feedback
Share your experiences with other women. Give real user feedback on which toys are good, which toys are bad, and why. Let's replace advertising hype with solid information derived from actual experience.
All questions are optional. Pick and choose the ones you want to answer. Or use ordinary e-mail, at contact00@AdultToyReviews.com.
This web page is about the Jack Rabbit Vibrator.

Copyright © 2001, 2002, 2003, 2004 AdultToyReviews.com
Last Updated: December 5, 2004
[ home ] [ toy info ] [ sorted by color ] [ sorted by material ] [ rabbits ] [ butterflies ] [ remote control ] [ strap-on harnesses ] [ dildoes ] [ double dildoes ] [ glass dildoes ] [ hands and fists ] [ vibrators ] [ massagers ] [ sleeves ] [ eggs and bullets ] [ clitoral stimulators ] [ waterproof vibrators ] [ anal probes and butt plugs ] [ beads ] [ breast pumps and nipple exciters ] [ balls ] [ erotic jewelry ] [ cock rings ] [ bondage ] [ lubricants, oils, and creams ] [ barriers ] [ hygiene ] [ erotic clothing ] [ transvestite items ] [ kits ] [ artificial vaginas ] [ male masturbators ] [ dolls ] [ penis pumps ] [ novelties ] [ DVDs ] [ videos ] [ books ] [ words ]