Ravenous Rabbit
clitoral stimulator and vibrator
Note that while this rabbit gets many excellent reviews, it also breaks fairly quickly (see reviews below). If you want a toy for a lot of use, it will be better to purchase a more expensive, more reliable rabbit (see list below).
"Maximum vibrating and rotating stimulation with precision controls. Independently controlled multi-directional rotating spiraled shaft with powerful long slender vibrating ears. Made of soft supple jelly. Measures 9.75 inches overall, 5 inches insertable to the 2 inch clit stimulator. The shaft is 1.5 inches wide with a circumferencce of 4.5 inches. 4 AA batteries." —SexToySex.com
Number one (1) top selling multi-vibe and number one (1) best selling toy overall at SexToySex.com as of February 2003 and May 2004. Note that top selling products are not necessarily the best toys. Sales can be strongly influenced by promotions, advertising, marketing, and other factors that have nothing to do with quality.
Rabbits: Rabbits feature three basic parts: (1) a little vibrating plastic rabbit (hence, the name) that stimulates the clitoris (sometimes the ears vibrate, sometimes the whole rabbit vibrates), (2) a cylinder vibrator for insertion into the vagina for G-spot stimulation (in couple's rabbits, this part is replaced by a hole for the male penis), and (3) beaded pearls that spin to stimulate the vaginal lips (not all rabbits have this part).
Special Features: rotates
Vibrations: powerful; multi-speed; two independently controlled vibrations
Size: 9.75 inches overall; 5 inches insertable (1-1/2 inces wide, 4-1/2 inches around); 2 inch clit stimulator —SexToySex.com
Shape: ribbed

Material: jelly "Jelly is a soft squishy smooth material." —Convergence Inc.
Batteries Required: Four (4) AA cells

(attached battery pack)
Manufacturer: California Exotic Novelties (formerly Swedish Erotic) product #SE0653-14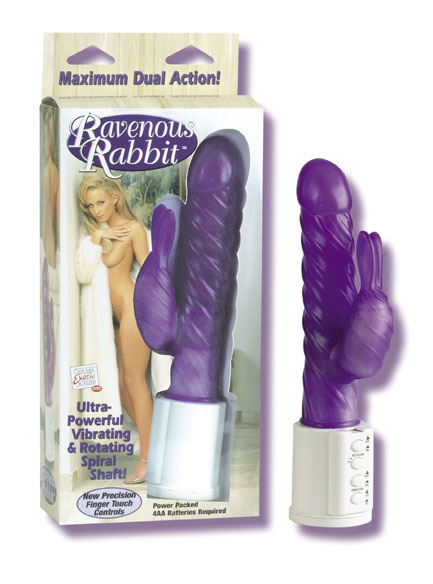 rabbits


"It's quick and very exciting to use.The price is fine by me you get what you pay for! It's a reliable source." —ArmyWife quoted by SexToySex.com 7 January 2005
"Powerful, multispeed vibrator whose top speed about makes me levitate right off the bed. A bit loud at top settings but not unacceptably so. Surface feels delicious especially when lubricated. I'd never owned a "rabbit" style vibrator and have to admit this is the one toy I can count on for almost instant crashing orgasms, one after the next. I've had it about six months and it still works perfectly. I also like that it's not shaped like a stupid cartoon character—I have too much dignity to use anything like that. I actually bought this almost purely because it looked more grown-up, but I'm glad I did. The rotation doesn't add much to the experience, but I didn't buy it for rotation anyway. It's also easy to clean and care for, always a bonus." —the_hedonist quoted by SexToySex.com 20 October 2004
"This is my second one. My first one lasted 6 months. This last one lasted 1 month. I do like it. It is worth the money but it does rip apart. So you get what you pay for. I am going to try other things but this is ok for the money." —anonymous quoted by SexToySex.com 22 July 2004
"This toy works extremely well. You will love it especially the ears. I use it alone and with my partner he enjoyed it also. It's definetley worth the price paid. Everyone needs this in their life single or married." —anonymous quoted by SexToySex.com 18 July 2004
"the product worked fine, but i still had problems cumming! i can't seem to find a toy that makes me orgasm. any tips, let me know." —ksirve753@hotmail.com quoted by SexToySex.com 29 May 2004
"This product is not worth buying It worked great for 6 months, but the purple covering has ripped between the shaft and ears and not able to use anymore." —customer quoted at SexToySex.com on 9 May 2004
"Everyone will like this THIS IS THE ULTIMATE! THE EARS WILL DRIVE YOU CRAZY ! USE WITH YOUR PARTNER OR ALONE. INCREDIBLE !!!!!!!!!!!" —customer quoted at SexToySex.com on 19 April 2004
"Everyone will like this This was the best thing since the napkin. Fully enjoyed myself and you will too." —Wendy quoted at SexToySex.com on 15 April 2004
"This product is not worth buying The rotating shaft would be better if just the shaft rotated…but I found that the handle did too and it made it hard to hang on to" —customer quoted at SexToySex.com on 22 March 2004
"Everyone will like this The best thing ever made!!!!!" —customer quoted at SexToySex.com on 3 March 2004
"Everyone will like this Oh My God is all I have to say…I love it, I've used it everyday since I got it. I am a married woman, but my husband is deployed and this is the next best thing.…Reccommend it 110%" —Anais quoted at SexToySex.com on 19 March 2004
"This product is not worth buying My wife loved it however is seems to be of extremely poor quality! The prongs for the batteries broke the first time we used it. I was able to fix it but is sure wrecked the mood of the evening. By the third time it had stopped working all together. I expected more for $34.00." —customer quoted at SexToySex.com on 7 Feb 2004
"This product is not worth buying I got this ravenous rabbit as a gift and i loved it. It functioned well. Did what it was supposed to do. A great stimulator. But, within 8 weeks of purchasing this rabbit, the ears had broken off the main body part and with wires hanging out, it had become useless. So, I wouldn't reccomend this product unless you're not going to use it much. Could be just poor craftsmanship, but even at less than 35.00 dollars I expected more of a quality product." —Beverly Herman quoted at SexToySex.com on 31 Jan 2004
"Everyone will like this My girlfriend is totally into sex. I live in another town and bought this for her to help get her thru the nights when i am not around. Yesterday, she received her package. Thirty minutes later she called ranting and raving about how this thing was driving her kootch wild. This morning she again called and said she did herself in every position imagineable, all night long, and was going to work and already thinking about coming home to her Rabbit tonight. She said she never came as much as she did last night. When she woke this morning, she was still dripping cum. This Ravenous Rabbit surpassed all expectations, and was worth every cent. She used it standing up, lying down, but said her favorite so far was on her side surrounded by mirrors, so she could watch the Rabbit do it's magic from every angle. We found something great here. I can't wait to see her and watch her fuck her Rabbit and me all night long." —Thomas quoted at SexToySex.com on 9 Jan 2004
"Everyone will like this Worth the price….haven't had a vibrator for over 8 years and this was my first purchase — wished I had this sooner…definitely does its job!" —Rabbit is my friend quoted at SexToySex.com on 6 Jan 2004
"Everyone will like this this is great, u will love it, it makes your pussy crazy" —customer quoted at SexToySex.com on 28 Sept 2003
"Everyone will like this This is my favorite toy. As a sex toy party hostess, I get a lot of orders for this product. It really sells itself. The color is beautiful and most women like the product because of its color. It feels as sexy as it looks." —Dena quoted at SexToySex.com on 23 Oct 2003
"Everyone will like this This is a great sex toy to use if you like cumming, you will love the Ravenous Rabbit. It is especially nice if you let it sit in warm water for about a minute." —keyondra Jordon quoted at SexToySex.com on 15 Sept 2003
If you have used this clitoral stimulator, please share your impressions through the feedback form provided below or e-mail direct to contact00@AdultToyReviews.com.

Adult Toy Reviews.com is not a store…We're better!
We are an independent consumer review site.
We offer links to more than a dozen on-line web stores.
Your purchase from any site marked with an † will help keep our independent consumer review service available and on the web. Or you can contact us to make a donation. Thank you for your participation.
U.S. $25.00 SexToySex.com†
(see important notes below)
Adult Toy Reviews helps you compare sex toys from a wide variety of sources.
†Affiliate: Listings marked with a † are affiliates. If you decide to purchase from this source, please use the link provided. The use of this link will result in a token affiliate payment that will help keep this site on the web. We can't vouch for any affiliate's honesty and remain neutral about whom you should buy from.
NOTE: We can not vouch for the honesty of any of the listed sources. References to commercial sources and their prices provided as a courtesy to the reader. We do not work for any of these organizations. When comparing prices, remember to add in shipping and handling charges, taxes, and other fees. Prices and availability of specific items subject to change (if you notice that a price has changed or an item is no longer available from a listed source, please e-mail us).
some of the sources on the web:

premium sites

specialty sites

discount sites

general sites

Shopping through these links may result in a small percentage of your purchase helping keep this site on the web.
(Many of the sites have tricky rules, so we don't always get a percentage, but it can't hurt to try.).

[ home ] [ toy info ] [ sorted by color ] [ sorted by material ] [ rabbits ] [ butterflies ] [ remote control ] [ strap-on harnesses ] [ dildoes ] [ double dildoes ] [ glass dildoes ] [ hands and fists ] [ vibrators ] [ massagers ] [ sleeves ] [ eggs and bullets ] [ clitoral stimulators ] [ waterproof vibrators ] [ anal probes and butt plugs ] [ beads ] [ breast pumps and nipple exciters ] [ balls ] [ erotic jewelry ] [ cock rings ] [ bondage ] [ lubricants, oils, and creams ] [ barriers ] [ hygiene ] [ erotic clothing ] [ transvestite items ] [ kits ] [ artificial vaginas ] [ male masturbators ] [ dolls ] [ penis pumps ] [ novelties ] [ DVDs ] [ videos ] [ books ] [ words ]
privacy statement
Unlike most web sites, we inform our visitors about our privacy policy. AdultToyReviews.com does collect generic information from visitors for statistical analysis (nation, browser, operating system, screen resolution, and monitor size) — any web site you visit can and probably does collect this information (and more). All individual identification information is immediately discarded (except for subscription information if you join our mailing lists). Information is never sold to outside mailing lists or any other purposes.
feedback
Share your experiences with other women. Give real user feedback on which toys are good, which toys are bad, and why. Let's replace advertising hype with solid information derived from actual experience.
All questions are optional. Pick and choose the ones you want to answer. Or use ordinary e-mail, at contact00@AdultToyReviews.com.
This web page is about the Ravenous Rabbit Vibrator.

Some text and pictures copyright © Convergence Inc. Used by permission.
Copyright © 2003, 2004, 2005 AdultToyReviews.com
Last Updated: January 17, 2005
[ home ] [ toy info ] [ sorted by color ] [ sorted by material ] [ rabbits ] [ butterflies ] [ remote control ] [ strap-on harnesses ] [ dildoes ] [ double dildoes ] [ glass dildoes ] [ hands and fists ] [ vibrators ] [ massagers ] [ sleeves ] [ eggs and bullets ] [ clitoral stimulators ] [ waterproof vibrators ] [ anal probes and butt plugs ] [ beads ] [ breast pumps and nipple exciters ] [ balls ] [ erotic jewelry ] [ cock rings ] [ bondage ] [ lubricants, oils, and creams ] [ barriers ] [ hygiene ] [ erotic clothing ] [ transvestite items ] [ kits ] [ artificial vaginas ] [ male masturbators ] [ dolls ] [ penis pumps ] [ novelties ] [ DVDs ] [ videos ] [ books ] [ words ]