Rabbit Pearl Vibrator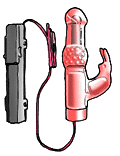 Rabbit Pearl
sources: U.S. $84.95 Libida†
Category: clitoral stimulator and vibrator
"variable speed, vinyl, attached battery pack. Stimulate all your pleasure points with the ultimate sex toy. The soft pink shaft swivels to stroke every surface during penetration, the rotating pearls stimulate the sensitive first few inches of the vaginal opening, and all the while soft bunny ears flicker vigorously against your clitoris. Individual controls allow you to manipulate the shaft rotation and the intensity of the vibration separately. A classic, well-made vibe, with a large and faithful fan club." —Libida

NOTE: Libida is a premium site that only carries quality toys, so it means something that they carry this item.
Rabbits: Rabbits feature three basic parts: (1) a little vibrating plastic rabbit (hence, the name) that stimulates the clitoris (sometimes the ears vibrate, sometimes the whole rabbit vibrates), (2) a cylinder vibrator for insertion into the vagina for G-spot stimulation (in couple's rabbits, this part is replaced by a hole for the male penis), and (3) beaded pearls that spin to stimulate the vaginal lips (not all rabbits have this part).
Special Features: rotates
Vibrations: powerful; multi-speed; three independently controlled vibrations
Size: 5 inches long x 1-1/2 inches wide —Libida
Batteries Required: Three (3) C cells

(attached battery pack)
rabbits


"I purchased the Rabbit Pearl after seeing it on Sex in the City. I never used a vibrator before — AND — never had an orgasm during intercourse. This little toy has changed my sex life! Now, not only do I get to cum every day, but I have finally experienced what it feels like to climax during penetration. This tool is the best. It drives you nuts with what it does to you inside — while putting you in heaven from the outside." —Ali quoted at Libida
"While this is one of my favorite solo toys, I really would like a stronger motor. At first it was making fairly ineffectual rotations that stopped when used internally, but opening up the power unit and bending up the contacts (easy even for a non-techie) remedied that. The vibration is fairly strong for a battery-operated vibe, but I found myself wishing that it came in a plug-in version, or at least didn't have flimsy cords going to the power supply that I fear will pull out if I move too much. Using both the rotation and the vibe at once lowers the sensations. So I usually put it on rotation (that is where those snazzy pearls shine) and beef it up with a handheld plug in vibe against the end of the shaft." —Anonymous quoted at Libida
"Rabbit Pearl is a really fun stimulator. Let me say it is even addictive because one can crave to get that excitement over and over again after using it the first time. So thanks for recommending this product. My orgasms frequency have increased and I feel very satisfied and fulfilled." —Anonymous quoted at Libida
"Worth your money! I loved it - before I used it I didn't even know there was anything called a 'female ejaculation' Who needs a man now?" —Anonymous quoted at Libida
"I bought this for my fiance who was new to toys and needed a little help finding her sexuality. I dont think this was the best first toy to give her. Although she now absolutely LOVES the "ears" the dildo part was a bit overwhelming to her. Personally I was not happy with the size of the remote, it made situations awkward having something the size of a generator next to you loved one." —Anonymous quoted at Libida
"I am a veteran of many toy purchases, and I was greatly anticipating the arrival of my Rabbit Pearl Vibrator. Personally, I have always orgasmed most intensely via clitoral stimulation, but like the penetration as well. A friend recommended this purchase. I would like to say that of course everyone is different, but for me, this was somewhat of a let down. I found that when it penetrated fully, the clitoral stimulation piece was too close, and rubbed pretty hard. The rolling internal motion didn't do a thing for me personally, and I quickly stopped using that feature. For myself, now when I use it, it is in conjunction with my eroscillator (all time fave) to do the clitoral work. I am going to buy the come here one next to give it a whirl." —California Girl quoted at Libida
"I've read a lot of hype about the Rabbit Pearl, probably because it was featured on Sex In The City. I'm not as wildly enthusiastic about the Rabbit Pearl as most people. For one, it was VERY noisy. It was also kind of large for my tastes: I'm 5'3" and the rabbit's "ears" were far too long to be comfortably positioned against my clitoris; the rubbery material that the product is made from made it a bit difficult to insert unless it had been properly lubricated. It was also rather flimsy, and broke after only a few months of weekly use. It did offer a wonderful orgasm but I think this is more for someone who has lots of privacy and who is into direct clitoral stimulation. If you prefer indirect stimulation, it can be a bit chafing. In all, I wouldn't buy this product again." —Anonymous quoted at Libida
"This was my first toy purchase and I must say it is a must have! The pearls are wonderful!" —Anonymous quoted at Libida
"I will rate the product 10 on 10. It has changed my sex life!! I have always had difficulty cuming thru intercourse but the Rabbit has changed it all. I have cum every time I have used it, which on average, at least 1-3 times a day !!! Its soo worth the bucks!!" —Anonymous quoted at Libida
"I just got this yesterday and have already "enjoyed" it several times today!!! This is my first toy purchase and unless I get bored I don't think I'll want anything else again! Definitely worth the money. Highly recommended!!!"" —J quoted at Libida
"I love the Rabbit Pearl. The clitoral stimulation it provides is extremely versatile, and the soft pink material is very appealing and easy to clean. The rotating dildo part of it doesn't do a thing for me personally, but the penetration feels good and the girth is nice and big." —Anonymous quoted at Libida
"I am a tough customer to satisfy, but this product really pleased me. This is my first toy— I was afraid I wouldnąt be satisfied. Well fear no more … I thoroughly enjoyed having my clit stimulated while using this Rabbit. Separate controls for the clit and vaginal stimulation works great with or without batteries. My favorite part is the clit stimulation. The variety of speeds will keep you coming back for more." —Anonymous quoted at Libida
"This is my favorite toy purchased from Libida. It produces amazing, quick orgasms. The only issue I've had with this product is 1. I wish it were wireless and 2. It only lasts about a year before I have to replace it. Otherwise, you can't go wrong!" —Anonymous quoted at Libida
"This is a great vibrator. Very powerful clitoral stimulator, plus rotating penis is great G-spot locator!! I am very sexually active and this surely satisfies me!" —Nancy quoted at Libida
"What a little wonder this thing is! The Rabbit is perfectly angled for an intense clitoral tickle while the shaft does its thing inside you…and I've found that using the rabbit alone is even more fun! You can alternate between the flicking ears and the intense vibe of the bunny's "body." I also find it quite sexy to grip and stroke the very lifelike shaft as I enjoy its partner bunny.
"You can tell that much thought went into its design. There are small bumps in strategic places on the shaft, and there's even a surprise smiley face! The only drawbacks are that it can be loud at times, and sometimes I get a little sore inside afterward, maybe from the circling of the shaft. Otherwise, quite an ingenious toy!" —Anonymous quoted at Libida
If you have used this clitoral stimulator, please share your impressions through the feedback form provided below or e-mail direct to contact00@AdultToyReviews.com.

Adult Toy Reviews.com is not a store…We're better!
We are an independent consumer review site.
We offer links to more than a dozen on-line web stores.
Your purchase from any site marked with an † will help keep our independent consumer review service available and on the web. Or you can contact us to make a donation. Thank you for your participation.
(see important notes below)
Adult Toy Reviews helps you compare sex toys from a wide variety of sources.
†Affiliate: Listings marked with a † are affiliates. If you decide to purchase from this source, please use the link provided. The use of this link will result in a token affiliate payment that will help keep this site on the web. We can't vouch for any affiliate's honesty and remain neutral about whom you should buy from.
NOTE: We can not vouch for the honesty of any of the listed sources. References to commercial sources and their prices provided as a courtesy to the reader. We do not work for any of these organizations. When comparing prices, remember to add in shipping and handling charges, taxes, and other fees. Prices and availability of specific items subject to change (if you notice that a price has changed or an item is no longer available from a listed source, please e-mail us).
some of the sources on the web:

premium sites

specialty sites

discount sites

general sites

Shopping through these links may result in a small percentage of your purchase helping keep this site on the web.
(Many of the sites have tricky rules, so we don't always get a percentage, but it can't hurt to try.).

[ home ] [ toy info ] [ sorted by color ] [ sorted by material ] [ rabbits ] [ butterflies ] [ remote control ] [ strap-on harnesses ] [ dildoes ] [ double dildoes ] [ glass dildoes ] [ hands and fists ] [ vibrators ] [ massagers ] [ sleeves ] [ eggs and bullets ] [ clitoral stimulators ] [ waterproof vibrators ] [ anal probes and butt plugs ] [ beads ] [ breast pumps and nipple exciters ] [ balls ] [ erotic jewelry ] [ cock rings ] [ bondage ] [ lubricants, oils, and creams ] [ barriers ] [ hygiene ] [ erotic clothing ] [ transvestite items ] [ kits ] [ artificial vaginas ] [ male masturbators ] [ dolls ] [ penis pumps ] [ novelties ] [ DVDs ] [ videos ] [ books ] [ words ]
privacy statement
Unlike most web sites, we inform our visitors about our privacy policy. AdultToyReviews.com does collect generic information from visitors for statistical analysis (nation, browser, operating system, screen resolution, and monitor size) — any web site you visit can and probably does collect this information (and more). All individual identification information is immediately discarded (except for subscription information if you join our mailing lists). Information is never sold to outside mailing lists or any other purposes.
feedback
Share your experiences with other women. Give real user feedback on which toys are good, which toys are bad, and why. Let's replace advertising hype with solid information derived from actual experience.
All questions are optional. Pick and choose the ones you want to answer. Or use ordinary e-mail, at contact00@AdultToyReviews.com.
This web page is about the Rabbit Pearl Vibrator.

Copyright © 2001, 2002, 2003, 2004 AdultToyReviews.com
Last Updated: May 20, 2004
[ home ] [ toy info ] [ sorted by color ] [ sorted by material ] [ rabbits ] [ butterflies ] [ remote control ] [ strap-on harnesses ] [ dildoes ] [ double dildoes ] [ glass dildoes ] [ hands and fists ] [ vibrators ] [ massagers ] [ sleeves ] [ eggs and bullets ] [ clitoral stimulators ] [ waterproof vibrators ] [ anal probes and butt plugs ] [ beads ] [ breast pumps and nipple exciters ] [ balls ] [ erotic jewelry ] [ cock rings ] [ bondage ] [ lubricants, oils, and creams ] [ barriers ] [ hygiene ] [ erotic clothing ] [ transvestite items ] [ kits ] [ artificial vaginas ] [ male masturbators ] [ dolls ] [ penis pumps ] [ novelties ] [ DVDs ] [ videos ] [ books ] [ words ]