Butt Plugs and Anal Toys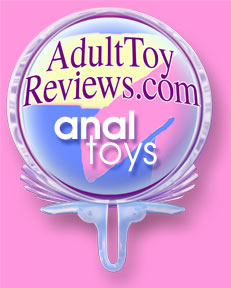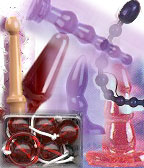 Anal probes and butt plugs are designed for use in the anus. These come in a wide variety of shapes, colors, and materials, as well as with and without vibrators. Anal kits combine multiple anal toys into a convenient package.
Butt plugs are toys designed to be inserted into the anus. They can be simple 'A' shaped devices, realistically molded penises, or exotic shapes. Butt plugs feature a flange on one end so that they don't slide inside the body and get trapped (without the flange, a toy can easily be sucked in and require an emergency room visit for removal). Butt plugs are available in a variety of materials (including plastics, rubber, and jelly), colors, and shapes, and some include vibrators.
Anal probes are toys that are inserted into the anus. Some are vibrators, while others are sleeves or attachments that go onto an already existing vibrator.
Anal beads are a series of small beads on a string that are inserted into the anus and then pulled out during orgasm to increase the intensity of the orgasm.
Sleeves are intended to be placed on cylinder vibrators to offer a variety of experiences. The most common sleeves turn an ordinary vibrator into a vibrating dildo. Other variations include sleeves with clitoral stimulators, anal probes, and other attachments. Sleeves are usually sold in sets or kits rather than individually.
See also anal lubricants.
Anal sex:

by imyclit.com

Anal sex. Do you love it? Hate it? Kinda wanna try it, but aren't sure if you should? If you can? You're not alone! We've noticed that anal sex is one of those topics that divides people into three main camps: There are those people who just don't want to try it, not now, not ever. It's gross, it's weird, it's unnatural, or hey — maybe it just doesn't float your boat. Then, there are those people who have tried it, and don't ever want to try it again. Because it hurt, because it was embarrassing, because they didn't really want to do it in the first place, etc. And finally, there are those people who absolutely love it!

A finger (or two or five) is exactly what the doctor ordered for mind blowing, toe tingling H-O-T sex! Sometimes people move from camp to camp before they finally settle down. The first time Amber had anal sex was in high school, and it was horrible! She swore it would be her first and LAST time doing it. Except… as time wore on she started thinking, "well, I'll probably never have anal sex again." Then she started thinking, "I really want to have anal sex, but I have so many concerns about it."

So, with dreams of hot (and safe) anal sex glimmering in her eye, she did exactly what every person who kinda-sorta-really-wants-to-have-anal-sex but is kinda-sorta-really-nervous-about-it should do: she bought a book.

Now, there aren't a whole lot of books about anal sex for women floating around out there. In fact, there's a whopping total of one that we know of, but you know what? It's not so bad. "The Ultimate Guide to Anal Sex for Women" by Tristan Taormino is fabulous start! We strongly recommend it for anyone at any level of anal play. It does a great job of debunking the myths about anal sex, and it is full of useful information about how to ease anal play into your sex life. We read it all of the time, and the truth is — a lot of the information we have about anal sex comes from reading that book… and, of course, from trying to figure out how to have hot anal sex that doesn't hurt, make us blush, or make us itch! Read on…

For some people, the whole idea of anal sex just seems kind of, well, WRONG (although they can't always articulate why). A woman Amber knows puts it this way: "things should not go IN where stuff comes OUT." Menstrual blood comes out of our vagina, but does that mean this woman avoids vaginal penetration? Of course not! But even after Amber pointed this out, the woman just shrugged, scrunched up her face and said, "I don't know… I just couldn't do it." Hey, it's her loss, but we'd be lying if we said we didn't understand how she feels.

Even for the most converted of anal sex aficionados, there are still days (usually with new partners) where anal sex just isn't an option. Sometimes, fun as it can be, anal sex conjures up feelings of intense shame and embarrassment just by thinking about it: It's too messy. I'm going to accidentally poop on my partner. I'll become incontinent with too much anal sex. It hurts too much. It's not natural. I'll be more likely to get an STD.

The anus is so hairy and ugly — I don't want my partner looking at it. We don't know about you, but these are the kinds of things we used to think all of the time! But, most of these fears are based in myth, not fact. (Myths, Myths. "Yes?" Sorry…we just couldn't resist! If you can guess that movie, we'll send you a set of stickers.)
"Anytime you are looking for anal stimulation there are important rules to remember. First and foremost, anything you stick up your butt should have something (a flared base or a string) to keep it from going all the way in and getting stuck. Most battery vibes don't have strong enough cords to pull them out by the cord and most electric vibes won't fit. The best vibes for anal stimulation are in this section. However, there are attachments for the Magic Wand that are also good for butt vibration. Check out the shape of the Wonder Wand and the G-Spotter Attachment (attention boys: when I say G-Spot, think prostate)." —Erin Doherty from Toys in Babeland
"We believe if you have a positive experience with a sex toy, you'll keep coming back for more. If you don't, you may never try another again. I've been selling sex toys for a long time and can assure you that a lot of what's out there is cheaply made (falls apart easily, breaks down, smells bad, or in some cases is just dangerous). Sometimes it's worth it to pay a little more for a toy, or try and find out what toys sell the best, or have been reviewed by other customers." —Anne Semans from Libida.com, author of "The Mother's Guide to Sex", "The New Good Vibrations Guide to Sex", and "The Woman's Guide to Sex on the Web"
care and use
Lubricants can make the use of most toys more pleasureable and are essential for the use of butt plugs. There are a number of different lubricants available. Never use oil or petroleum based lubricants with latex toys. Use water based lubricants with toys, as oil or petroleum based lubricants can melt or destroy some toys (especially any toy made of latex or Cyberskin). Lubricants are available in flavored and unflavored varieties. Unflavored lubricants are better quality than flavored lubricants (flavored lubricants are primarily for use with oral sex).
Toys shared between partners can carry sexually transmitted diseases. The safe sex method is to either not share toys are to use a condom on shared toys. Do not move a toy from the anus to the vagina without washing it first, as this can transmit bacteria (even in the the same person).
Do not drop battery powered vibrators (they often break on impact). Clean vibrators with warm water and soap after each use, then rinse and thoroughly dry before storage. Do not let water get into the metal parts of a vibrator. If there is a cord, be careful never to tug on the cord, as it will come loose easily. Do not use an egg or other vibrating toy that has a cord inside the anus. Battery powered devices are air cooled, if they don't have access to air, they can become hot enough to burn. Do not fall asleep with a vibrator turned on.
Sex toys should be cleaned, rinsed, and dried after each use. Failure to clean toys can lead to disease. One man reported failing to clean his inflatable doll after each use and then one day discovering maggots growing in it (which taught him to start cleaning his toys). Remove batteries from all toys before storage (leaving the batteries in can result in acid leakage, which can ruin the toy). Vibrators should be wiped clean with a cloth and warm water or alcohol. Do not let water get into the motor or electrical parts of a vibrator. Vinyl attachments can be cleaned in the top rack of a dishwasher. The more expensive materials (such as silicon, Cyberskin, Realskin, Ultraskin, etc.) should be washed in soap and warm water (either an antibacterial soap or mild soap), thoroughly dried, and coated with a light layer of cornstarch before storage (do not use talc on any toy that will be inserted vaginally). Silicon toys can be placed in the top rack of a dishwasher or can be sterilized in boiling water (if there are no latex, metal, or plastic parts and no electrical or motorized parts). Be careful not to crack or tear the surface of a silicon toy, as the tear will rapidly spread and ruin the toy. Rubber and Cyberskin are semi-porous and use of a condom will extend their useful life. Clean rubber, latex, and plastic dildoes and butt plugs with warm water and a mild soap. Thoroughly dry latex, rubber, or plastic toys before storage, but do not use heat for drying. Hand wash leather clothing, harnesses, and devices with warm water and mild soap and thoroughly dry before storage. Leather care products may be used on leather toys, clothing, and harnesses. Store products in a clean, dry, dark location away from direct sunlight or sources of heat. Be careful about placing toys next to each other, as some materials might react and destroy both toys.

anal probes
butt plugs
anal beads


other anal devices
Other anal devices: Anal Mini Tongue, Rear Enders Double Trouble Large, Rear Enders Pleasure Tree, Waterproof Triple Treat Lady Bug Lavender (anal and clitoral stimulation)
anal sleeves
Anal sleeves: (attach to vibrators) Anal Invader Sleeve, Little Butties Passion Plugs
anal kits
dolls themed to emphasize asses
anal lubricant
colors/races

Clear: Crystal Anal Wand, e-Glass® Light Wave



White: Anal Beads Large, Backdoor T Party Kit

Metallic: Alchemy Metallic Plug

Glow-in-the-Dark: Debi Diamond Glow Anal Beads




Yellow: Anal Beads Large, Artillery Shell

Yellow-Green: Jelly Gumdrop Vibe Kiwi Jelly T

See also: colors.
special features
Ejaculating: Blue Knight, Ejaculating Butt Plug
Inflatable: Vibrating Expandable Anal Thriller
Handle: Anal Enforcer, Anal Twist Corkscrew
Double-ended: Double Hitter Dual Action Butt Plug
With chastity: Anal Invader with Cock Cage
With spheres: Alchemy Metallic Plug, Anal Enforcer, e-Glass® Light Wave, COLT Gear Power Balls — Black, Rear Enders Double Trouble Large, Rear Enders Pleasure Tree, Vibro Anal Beads
Bendable: Anal E-Z Bend Vibe, Gerbil Flex Stimulator, COLT Gear Power Balls — Black
Illuminated: e-Glass® Light Wave
length
10-1/2 inches: Crystal Anal Wand
9 inches: Red Boy™ Extra Large Butt Plug
8 inches: Anal Enforcer, e-Glass® Light Wave, The Tool (thick black), The Tool (thick white)
7 inches: 5X Giga Power Sex Probe Vibe, Jelly Slim Jim Vibrator
6-1/2 inches: Anal Ecstasy
6 inches: Anal E-Z Bend Vibe
5 inches: Anal Retreiver Medium Probe, Artillery Shell, Chasey's Razzle Dazzle Vibrator
4-1/2 inches: Anal Invader with Cock Cage, Anal Retreiver Slender Probe
4 inches: Anal Mini Tongue, Backdoor T Party Kit
3 inches: Backdoor Delight, Backdoor T Party Kit
width (diameter)
4-1/2 inches wide: Red Boy™ Extra Large Butt Plug
2 inches wide: (6 inch circumference) Anal Ecstasy, Anal Retreiver Medium Probe, Artillery Shell
1-3/4 inches wide: (5.5 inch circumference) Chasey's Razzle Dazzle Vibrator
1 inches: Anal Enforcer, e-Glass® Light Wave, Backdoor Delight, Jelly Slim Jim Vibrator
prices
most popular items
The following are the ten most popular dildoes, based on the number of visitors per page. This list does not include recently added items.
if you like this site:
Please support this independent adult sex toy review site by:
Share your experiences (you can request that your reviews be anonymous).
Bookmark this site and use our links if you purchase from one of the stores listed below.
Add a link to this site on your web page <a href="http://www.AdultToyReviews.com/">AdultToyreviews.com</a> .

[ home ] [ toy info ] [ sorted by color ] [ sorted by material ] [ anal toys ] [ anal probes ] [ artificial vaginas ] [ balls ] [ barriers ] [ batteries ] [ beads ] [ belly dancing ] [ bondage ] [ books ] [ breast pumps and nipple exciters ] [ butterflies ] [ butt plugs ] [ candles ] [ clitoral stimulators ] [ clothing ] [ cock rings ] [ dildoes ] [ dolls ] [ double dildoes ] [ DVDs ] [ edible ] [ eggs and bullets ] [ erotic clothing ] [ glass toys ] [ g-spot stimulators ] [ hands and fists ] [ erotic jewelry ] [ hygiene ] [ kits ] [ lubricants, oils, and creams ] [ male masturbators ] [ massagers ] [ nipple exciters ] [ novelties ] [ penis pumps ] [ porn star ] [ rabbits ] [ remote control ] [ sleeves ] [ strap-on harnesses ] [ stripper ] [ transvestite items ] [ vac-u-lock ] [ vaginas ] [ vibrators ] [ videos ] [ waterproof vibrators ] [ wigs ]
privacy statement
Unlike most web sites, we inform our visitors about our privacy policy. AdultToyReviews.com does collect generic information from visitors for statistical analysis (nation, browser, operating system, screen resolution, and monitor size) — any web site you visit can and probably does collect this information (and more). All individual identification information is immediately discarded (except for subscription information if you join our mailing lists). Information is never sold to outside mailing lists or any other purposes.

code word xzqj01
Copyright © 2001, 2002, 2003, 2004, 2005, 2006 AdultToyReviews.com
Last Updated: August 28, 2006
[ home ] [ toy info ] [ sorted by color ] [ sorted by material ] [ anal toys ] [ anal probes ] [ artificial vaginas ] [ balls ] [ barriers ] [ batteries ] [ beads ] [ belly dancing ] [ bondage ] [ books ] [ breast pumps and nipple exciters ] [ butterflies ] [ butt plugs ] [ candles ] [ clitoral stimulators ] [ clothing ] [ cock rings ] [ dildoes ] [ dolls ] [ double dildoes ] [ DVDs ] [ edible ] [ eggs and bullets ] [ erotic clothing ] [ glass toys ] [ g-spot stimulators ] [ hands and fists ] [ erotic jewelry ] [ hygiene ] [ kits ] [ lubricants, oils, and creams ] [ male masturbators ] [ massagers ] [ nipple exciters ] [ novelties ] [ penis pumps ] [ porn star ] [ rabbits ] [ remote control ] [ sleeves ] [ strap-on harnesses ] [ stripper ] [ transvestite items ] [ vac-u-lock ] [ vaginas ] [ vibrators ] [ videos ] [ waterproof vibrators ] [ wigs ]