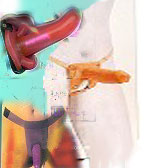 Strap-on Harnasses
Harnasses hold a dildo or vibrator in place, usually for pleasuring another person. Some harnasses can hold both an external and an internal (or two internal) dildoes or vibrators. Harnasses that only hold internal dildoes or vibrators are often called chastities, especially if they lock in place.
While the popular conception is that strap-ons are lesbian devices, in reality, they are used far more often by heterosexual women performing anal sex on their boyfriend or husband.
"We believe if you have a positive experience with a sex toy, you'll keep coming back for more. If you don't, you may never try another again. I've been selling sex toys for a long time and can assure you that a lot of what's out there is cheaply made (falls apart easily, breaks down, smells bad, or in some cases is just dangerous). Sometimes it's worth it to pay a little more for a toy, or try and find out what toys sell the best, or have been reviewed by other customers." —Anne Semans from Libida.com, author of "The Mother's Guide to Sex", "The New Good Vibrations Guide to Sex", and "The Woman's Guide to Sex on the Web"
In theory, any dildo with a suction cup or balls can be used with any strap-on harness, but in practice, the larger, heavier dildoes will easily fall out of the cheap harnesses, and even the best harnesses will have trouble holding the heaviest dildoes.
Many women complain about lack of stimulation while wearing a strap-on. For some women, the psychological stimulation of using a strap-on is sufficient in itself, sometimes even to orgasm. For other women, some kind of physical stimulation is also needed.
The Nexus is a double dildo designed for use in most (not all) strap-ons. The two dildoes are not straight in line, but offset and angled. One dildo is external and one dildo vaginally internal. The back side of the external dildo may also provide clitoral stimulation.
See also anal lubricants.

harness only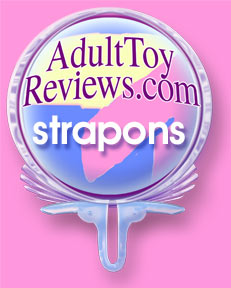 harness with dildo
harness with hollow sleeve
harness with plug(s)
harness with dildo and plug(s)
oral strap-on with dildo
harness with rabbit
anal lubricant
colors/races

Multi-colored: Stephanie Swift's Multi-Orgasmic Strap-On

Clear: Jewel DeNyle 8 Inch Vibrating Frosted Ice Harness Kit, Jenna's Harness Set, Jenna's Vac-U-Lock Harness Set

Caucasian: Accommodator, Beige Slip On Tool, Beige Double Dong with Harness, Extend-A-Pleasure, Executive Double Dong Harness, Hollow Thruster, Ophelia's Delight, Penetrix, Ultra Harness 2000 — Male, Ultra Harness 2000 — Female (dildo only), Vibrating Strap-On Delight (dildo only)

Black: Black Double Dong with Harness, Corsette Harness Black Swirl, Crotchless Harness, Dominique's Black Slip On Tool, Extreme Harness Kit, Jack Rabbit Harness, Leather Crotchless Panties with Strap-on Dildo, Leather Hand Harness, Leather Ring Harness With Dildo, Leather Strap On Black, Leather Thigh Harness, Pink Sensual Comfort Strap-on with black dildo, Sister Strap-On, Ultra Harness 2 and Plug, Ultra Harness 2000 — Female (harness and plugs), Ultra Harness 2000 — Male, Vac-U-Lock Deluxe Strap-On Harness, Vibrating Strap-On Delight

Purple: Juli Ashton Strap-On, Corsette Harness Purple Swirl, Devinn Lane's Mystic Ram Strap-On, Jacklyn Licks's Violet Universal Strap-On Harness Kit, Purple Sensual Comfort Strap-on, Rocket Rider Harness, Temptress' Dual Action Harness

Lavender: Lavender Leather Strap On

Pink: Betty's Jelly Bumble Bee, Crotchless Harness, Jack Rabbit Harness, Janine's Ultra Harness, Leather Crotchless Panties with Strap-on Dildo, Perfect Strap-On, Pink Slip-On Tool, Stephanie Swift's Multi-Orgasmic Strap-On

Red: Julia Ann's Deep Thrusting Harness, Julie Meadows's Fire Red Universal Strap-On Harness Kit, Vibrating Inflatable Strap On

Orange:< Ultra Harness 2 and Plug

Green: Serenity's 7 Inch Vibrating Kiwi Mist Harness Kit

Cyan/Aqua: Kylie Ireland's Ocean Blue Universal Strap-on Harness Kit

Blue: Blue Latex Slip-On Tool
materials

Jelly: Juli Ashton Strap-On, Betty's Jelly Bumble Bee, Jewel DeNyle 8 Inch Vibrating Frosted Ice Harness Kit, Kylie Ireland's Ocean Blue Universal Strap-on Harness Kit, Janine's Ultra Harness, Jenna's Harness Set, Jenna's Vac-U-Lock Harness Set, Devinn Lane's Mystic Ram Strap-On, Lavender Leather Strap On, Leather Crotchless Panties with Strap-on Dildo, Leather Strap On Black, Jacklyn Licks's Violet Universal Strap-On Harness Kit, Jack Rabbit Harness, Julie Meadows's Fire Red Universal Strap-On Harness Kit, Pink Sensual Comfort Strap-on with black dildo, Purple Sensual Comfort Strap-on, Rocket Rider Harness, Serenity's 7 Inch Vibrating Kiwi Mist Harness Kit, Stephanie Swift's Multi-Orgasmic Strap-On, Temptress' Dual Action Harness

Latex: Accommodator, Beige Double Dong with Harness, Beige Slip On Tool, Black Double Dong with Harness, Dominique's Black Slip On Tool, Blue Latex Slip-On Tool, Extend-A-Pleasure, Hollow Thruster, Executive Double Dong Harness, Ophelia's Delight, Penetrix, Pink Slip-On Tool, Sister Strap-On, Stephanie Swift's Multi-Orgasmic Strap-On, Temptress' Dual Action Harness, Vibrating Inflatable Strap On

Leather: Jewel DeNyle 8 Inch Vibrating Frosted Ice Harness Kit, Extreme Harness Kit, Lavender Leather Strap On, Leather Crotchless Panties with Strap-on Dildo, Leather Hand Harness, Leather Harness with Strap, Leather Holder with Strap, Leather Ring Harness With Dildo, Leather Strap On Black, Leather Terra Firma Harness, Leather Thigh Harness, Ultra Harness 2000 — Female (harness), Ultra Harness 2000 — Male

Rubber: Leather Hand Harness (dildo), Leather Ring Harness With Dildo (dildo), Leather Thigh Harness (dildo), Rubber Harness with Strap
Cloth: Corsette Harness Black Swirl, Corsette Harness Purple Swirl, Fabric Terra Firma Harness
Vinyl: Perfect Strap-On
speacial features
Vibrating: Betty's Jelly Bumble Bee, Blue Latex Slip-On Tool, Jewel DeNyle 8 Inch Vibrating Frosted Ice Harness Kit, Extend-A-Pleasure, Executive Double Dong Harness, Jack Rabbit Harness, Julia Ann's Deep Thrusting Harness, Ophelia's Delight, Penetrix, Pink Slip-On Tool, Serenity's 7 Inch Vibrating Kiwi Mist Harness Kit, Sister Strap-On, Stephanie Swift's Multi-Orgasmic Strap-On, Temptress' Dual Action Harness, Vibrating Inflatable Strap On, Vibrating Strap-On Delight
Inflatable: Vibrating Inflatable Strap On
prices

[ home ] [ toy info ] [ sorted by color ] [ sorted by material ] [ rabbits ] [ butterflies ] [ remote control ] [ strap-on harnesses ] [ dildoes ] [ double dildoes ] [ glass dildoes ] [ hands and fists ] [ vibrators ] [ massagers ] [ sleeves ] [ eggs and bullets ] [ clitoral stimulators ] [ waterproof vibrators ] [ anal probes and butt plugs ] [ beads ] [ breast pumps and nipple exciters ] [ balls ] [ erotic jewelry ] [ cock rings ] [ bondage ] [ lubricants, oils, and creams ] [ barriers ] [ hygiene ] [ erotic clothing ] [ transvestite items ] [ kits ] [ artificial vaginas ] [ male masturbators ] [ dolls ] [ penis pumps ] [ novelties ] [ DVDs ] [ videos ] [ books ] [ words ]
privacy statement
Unlike most web sites, we inform our visitors about our privacy policy. AdultToyReviews.com does collect generic information from visitors for statistical analysis (nation, browser, operating system, screen resolution, and monitor size) — any web site you visit can and probably does collect this information (and more). All individual identification information is immediately discarded (except for subscription information if you join our mailing lists). Information is never sold to outside mailing lists or any other purposes.

code word xzqj08
Copyright © 2001, 2002, 2003, 2004, 2005 AdultToyReviews.com
Last Updated: August 3, 2005
[ home ] [ toy info ] [ sorted by color ] [ sorted by material ] [ rabbits ] [ butterflies ] [ remote control ] [ strap-on harnesses ] [ dildoes ] [ double dildoes ] [ glass dildoes ] [ hands and fists ] [ vibrators ] [ massagers ] [ sleeves ] [ eggs and bullets ] [ clitoral stimulators ] [ waterproof vibrators ] [ anal probes and butt plugs ] [ beads ] [ breast pumps and nipple exciters ] [ balls ] [ erotic jewelry ] [ cock rings ] [ bondage ] [ lubricants, oils, and creams ] [ barriers ] [ hygiene ] [ erotic clothing ] [ transvestite items ] [ kits ] [ artificial vaginas ] [ male masturbators ] [ dolls ] [ penis pumps ] [ novelties ] [ DVDs ] [ videos ] [ books ] [ words ]