Clit Kisser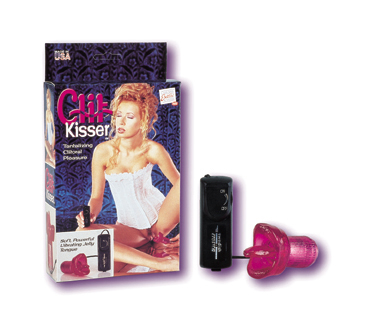 Category: clitoral stimulator and vibrator. Can also be used as a nipple exciter.
Video: Seea video demonstration and explanation of this toy for as little as $5 for 30 minutes of viewing..
"Soft vibrating jelly mouth with a sensual tongue that can simulate flittering and licking when moved over the clitoris. 2 AA batteries." —SexToySex.com
Number two (2) top selling vibrator and number two (2) best selling toy overall at SexToySex.com as of February 2003 and May 2004. Note that top selling products are not necessarily the best toys. Sales can be strongly influenced by promotions, advertising, marketing, and other factors that have nothing to do with quality.
Vibrations: multi-speed

Material: jelly "Jelly is a soft squishy smooth material." —Convergence Inc.
Batteries Required: Two (2) AA cells

Manufacturer: California Exotic Novelties (formerly Swedish Erotic) product #SE0595-14

"This jelly 'tongue' may work for some people, but I need a lot of clitoral stimulation to orgasm. There is hardly any power to this toy. I recommend the beaver, rabbit, or other such clitoral stimulants." —red_Sehkmet quoted at SexToySex.com on 3 November 2004
"this is not a very good stimulator I would recommend buying something else like a real vibrator" —anonymous quoted at SexToySex.com on 5 October 2004
"Well…not as I expected. The tongue doesn't really lick. Disappointed. The silver bullet is never a disappoinment though!! Walk around with it in my thong, get a vibration that keeps me wet all day, or until the batteries wear out!!! My tight thong vibrates on my front and back fun spots, depending on how I bend over. The plastic tongue part may take some creative thought, but the bullet is wonderful. Money is no object to my all day enjoyment." —Cheryl quoted at SexToySex.com on 9 September 2004
"This does not flitter and lick. The tongues sticks out too far and its no different than any cheap vibrator on the clit. Definately does not feel like oral sex" —anonymous quoted at SexToySex.com on 25 August 2004
"this has got to be the best toy i have ever used and trust me… i have used a lot. Must say that the tounge feels so realistic and i will take that on my holidays in a few months. Thank you for such a orgasmic toy." —suck me 24hr quoted at SexToySex.com on 3 August 2004
"Oh my god. this feels so amazing. It's like I have ashton kutcher at my cock. It sucks so hard and vibrates. It's like having sex with a toy. So worth the price. Don't you just love that feeling when you have sex? Well, that's how good it is. it is like you are in heaven" —sex feels so good i just wanna fuck fore quoted at SexToySex.com on 23 June 2004
"was looking forward to this but what a disappointment. Top vibration is minimal." —kf quoted at SexToySex.com on 18 May 2004
"Think twice before spending on ths one!…I will admit the the tongue feels realistic; but its too long to give suction so basically it's just vibrating (nice vibrations by the way) so you're doing all the work of rubbing the tongue on your clit…major let down if going solo, can't tell the difference from you're hand and a lotta lube; but has GREAT potential as an added "tool" with a partner." —Monè quoted at SexToySex.com on 8 May 2004
"i think it would really help me in my sex life cause here lately i havn't had sex alot. and i think i would feel so much better if i got off a couple of times a day." —heather purkey quoted at SexToySex.com on 5 May 2004
"Weak mini bullet vibe, obviously not designed by a woman, akward to use .. for $5 the mini vibe might be good to stash in your hand bag, but @ $22 this is not a good deal." —Panty Goddess quoted at SexToySex.com on 29 April 2004
"MY WIFE LOVED THIS CLIT SUCKER VERY MUCH HAD 4-5 CUMS IN 20MINUTES SUCKING HER OFF " —charliek quoted at SexToySex.com on 10 April 2004
"Flitter and lick….NOT, it simply vibrates like any simple battery operated plain ol vanilla vibe…Woo Hoo…" —Mad Bytch quoted at SexToySex.com on 3 April 2004
"A good product, and the tongue REALLY feels like a tongue! However, the bullet vibrations, even though stimulating at times, are more of a distraction. Would prefer to have a "wiggling" tongue (like real life) versus the buzzing-fast vibrations of the whole unit. Regardless, it's small enough I can travel with it…and I will!" —LuckyCharm quoted at SexToySex.com on 9 March 2004
"it sucked so hard and it felt so good i loved it" —customer quoted at SexToySex.com on 3 March 2004
"We sell a lot of these and the majority of the people love it. If you are looking for hard powerful stimulation this is not for you, this is more of a tease for forplay" —Tasteful Temptations quoted at SexToySex.com on 11 Feb 2004
"This is a very fun foreplay toy. My husband and I used it and enjoyed it very much. It's a nice enhancement that adds that extra bit of stimulation to put you over the edge." —Carol quoted at SexToySex.com on 6 Feb 2004
"I thought this toy was just about a waste of time… didnֺt do nearly enough… save your money" —Ashley quoted at SexToySex.com on 16 Oct 2003
"I really loved this toy. The only thing I had go wrong, was that after a month, the bullet stopped working. And you can't take it apart to try and fix it. But it's worth the money." —customer quoted at SexToySex.com on 11 Oct 2003
"This item works very well. It's multispeed remote sends you the right vibrations for the right times. I used it alone and with my partner and enjoyed the results over and over…$22.00 is a reasonable price for this item. It is high quality mechandise." —Naughty Nancy quoted at SexToySex.com on 30 Sept 2003
If you have used this clitoral stimulator, please share your impressions through the feedback form provided below or e-mail direct to contact00@AdultToyReviews.com.

Adult Toy Reviews.com is not a store…We're better!
We are an independent consumer review site.
We offer links to more than a dozen on-line web stores.
Your purchase from any site marked with an † will help keep our independent consumer review service available and on the web. Or you can contact us to make a donation. Thank you for your participation.
U.S. $16.00 SexToySex.com†
(see important notes below)
Adult Toy Reviews helps you compare sex toys from a wide variety of sources.
†Affiliate: Listings marked with a † are affiliates. If you decide to purchase from this source, please use the link provided. The use of this link will result in a token affiliate payment that will help keep this site on the web. We can't vouch for any affiliate's honesty and remain neutral about whom you should buy from.
NOTE: We can not vouch for the honesty of any of the listed sources. References to commercial sources and their prices provided as a courtesy to the reader. We do not work for any of these organizations. When comparing prices, remember to add in shipping and handling charges, taxes, and other fees. Prices and availability of specific items subject to change (if you notice that a price has changed or an item is no longer available from a listed source, please e-mail us).
some of the sources on the web:

premium sites

specialty sites

discount sites

general sites

Shopping through these links may result in a small percentage of your purchase helping keep this site on the web.
(Many of the sites have tricky rules, so we don't always get a percentage, but it can't hurt to try.).

[ home ] [ toy info ] [ sorted by color ] [ sorted by material ] [ rabbits ] [ butterflies ] [ remote control ] [ strap-on harnesses ] [ dildoes ] [ double dildoes ] [ glass dildoes ] [ hands and fists ] [ vibrators ] [ massagers ] [ sleeves ] [ eggs and bullets ] [ clitoral stimulators ] [ waterproof vibrators ] [ anal probes and butt plugs ] [ beads ] [ breast pumps and nipple exciters ] [ balls ] [ erotic jewelry ] [ cock rings ] [ bondage ] [ lubricants, oils, and creams ] [ barriers ] [ hygiene ] [ erotic clothing ] [ transvestite items ] [ kits ] [ artificial vaginas ] [ male masturbators ] [ dolls ] [ penis pumps ] [ novelties ] [ DVDs ] [ videos ] [ books ] [ words ]
privacy statement
Unlike most web sites, we inform our visitors about our privacy policy. AdultToyReviews.com does collect generic information from visitors for statistical analysis (nation, browser, operating system, screen resolution, and monitor size) — any web site you visit can and probably does collect this information (and more). All individual identification information is immediately discarded (except for subscription information if you join our mailing lists). Information is never sold to outside mailing lists or any other purposes.
feedback
Share your experiences with other women. Give real user feedback on which toys are good, which toys are bad, and why. Let's replace advertising hype with solid information derived from actual experience.
All questions are optional. Pick and choose the ones you want to answer. Or use ordinary e-mail, at contact00@AdultToyReviews.com.
This web page is about the Clit Kisser Vibrator.

Some text and pictures copyright © Convergence Inc. Used by permission.
Copyright © 2003, 2004 AdultToyReviews.com
Last Updated: December 4, 2004
[ home ] [ toy info ] [ sorted by color ] [ sorted by material ] [ rabbits ] [ butterflies ] [ remote control ] [ strap-on harnesses ] [ dildoes ] [ double dildoes ] [ glass dildoes ] [ hands and fists ] [ vibrators ] [ massagers ] [ sleeves ] [ eggs and bullets ] [ clitoral stimulators ] [ waterproof vibrators ] [ anal probes and butt plugs ] [ beads ] [ breast pumps and nipple exciters ] [ balls ] [ erotic jewelry ] [ cock rings ] [ bondage ] [ lubricants, oils, and creams ] [ barriers ] [ hygiene ] [ erotic clothing ] [ transvestite items ] [ kits ] [ artificial vaginas ] [ male masturbators ] [ dolls ] [ penis pumps ] [ novelties ] [ DVDs ] [ videos ] [ books ] [ words ]