Senso Pocket Gal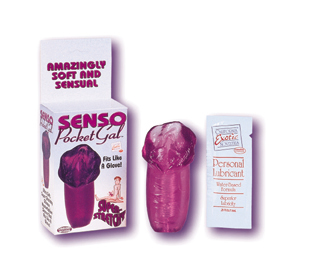 "Elastic silicone pocket pal masturbator. Ribbed elastic silicone pocket pal made from a super stretchy material that grips your penis just like the real thing. Each comes with some lubricant." —SexToySex.com
"Senso Pocket Gal — Ribbed elastic silicone pocket pal. This toy is made from a super stretchy material that grips your penis just like the real thing. Comes with some lubricant." —Convergence Inc.
Special Features: ribbed; Super-Stretchy
Material: jelly silicone "Jelly is a soft squishy smooth material." —Convergence Inc.
Batteries Required: none
Product #SE0982-14

"This was my first sleeve, I didn't expect much though; on the way home from the store where I bought it, I went in to a bathroom on the ferry and took it out of my bag. I squirted a little of the supplied lube and placed the head of my flaccid penis at the opening; within seconds the feel of the interior had me hard as a rock; I knew I was in trouble after that…
"Now, 3 years later, I have finally fucked the thing in to retirement. I know that everyone here will tell you to only use water based lubricants, but let me tell you the secret that has compelled me to stick my cock inside of it three times or more a day for the past 3 years (on and off girlfriends are a bitch). After trying various water based lubes, one day I ran out. But I DID have unscented baby oil…turned out to be the best lube for the thing. Why, do you ask? BECAUSE it eats away the silicone material. After using olis in this toy, it began to loosen up, and create little tears in the material that made it feel EXACTLY like the best pussy I ever had (and YES I do get laid, but not as often as I like to fuck). As you can see in the pix, the silicone tears with the use of oils, and accommodates a pretty thick cock from the tears; the feel and tightness are perfect after a few weeks of oil use. I recommend unscented baby oil, mineral oil, and get this, light cooking oils do great too.
"ONE MORE SECRET-perhaps the most important is this: If you wrap it in a towel, with the receiving end facing out (roll it up like a joint), the feeling is even MORE incredible as it adds weight that allows you to sit in a chair and lift it up and down as if you were helping a lady squatting over you. It also is similar to the sensation of guiding the motions of a blowjob, since the size of the wrapped sleeve is somewhere between an ass and a head.
"I have included some pix…enjoy!" —anonymous; e-mail; Apr 23, 2003

NOTE: We are unable to include the pictures that came with this review because our ISP forbids "pornographic" pictures.
"This is the best masturbating sleeve I have ever used. It is tight, stretchy, silky smooth and durable to boot. The ribs inside are just right; stimulating without becoming annoying. The only complaint I would have is that it is too short. This has nothing to do with the stimulation, it just becomes messy. I use KY; maybe Astrolube or the like wouldn't be as messy, but with KY at least, by the time you get enough lube, it gets pushed out of the "overage" opening. Maybe they could make a longer and/or closed end model. For those extra sized guys, they could cut the closed end off easily enough." —anonymous; e-mail; January 23, 2002
"I can also vouch for the Senso Pocket Gal. It's compact and hides discreetly in a washbag. Preferred lube is astroglide. Stretchy material and ribbed interior make for unequalled sensation. Smacking sounds as you stroke also are a big turn but can be pretty loud so be discreet 'or not as you wish'. First time I bought one, I had four orgasms in one afternoon when I was supposed to be working. Nice feeling of penetration as you insert your penis too. Careful as you climax as stroking hard will force semen out the other end at pressure. Definitely recommend it." —John Katzman; e-mail; February 8, 2002
If you have used this toy, please share your impressions through the feedback form provided below or e-mail direct to contact00@AdultToyReviews.com.

Adult Toy Reviews.com is not a store…We're better!
We are an independent consumer review site.
We offer links to more than a dozen on-line web stores.
Your purchase from any site marked with an † will help keep our independent consumer review service available and on the web. Or you can contact us to make a donation. Thank you for your participation.
U.S. $17.00 SexToySex.com†
(see important notes below)
Adult Toy Reviews helps you compare sex toys from a wide variety of sources.
†Affiliate: Listings marked with a † are affiliates. If you decide to purchase from this source, please use the link provided. The use of this link will result in a token affiliate payment that will help keep this site on the web. We can't vouch for any affiliate's honesty and remain neutral about whom you should buy from.
NOTE: We can not vouch for the honesty of any of the listed sources. References to commercial sources and their prices provided as a courtesy to the reader. We do not work for any of these organizations. When comparing prices, remember to add in shipping and handling charges, taxes, and other fees. Prices and availability of specific items subject to change (if you notice that a price has changed or an item is no longer available from a listed source, please e-mail us).
some of the sources on the web:

premium sites

specialty sites

discount sites

general sites

Shopping through these links may result in a small percentage of your purchase helping keep this site on the web.
(Many of the sites have tricky rules, so we don't always get a percentage, but it can't hurt to try.).

[ home ] [ toy info ] [ sorted by color ] [ sorted by material ] [ rabbits ] [ butterflies ] [ remote control ] [ strap-on harnesses ] [ dildoes ] [ double dildoes ] [ glass dildoes ] [ hands and fists ] [ vibrators ] [ massagers ] [ sleeves ] [ eggs and bullets ] [ clitoral stimulators ] [ waterproof vibrators ] [ anal probes and butt plugs ] [ beads ] [ breast pumps and nipple exciters ] [ balls ] [ erotic jewelry ] [ cock rings ] [ bondage ] [ lubricants, oils, and creams ] [ barriers ] [ hygiene ] [ erotic clothing ] [ transvestite items ] [ kits ] [ artificial vaginas ] [ male masturbators ] [ dolls ] [ penis pumps ] [ novelties ] [ DVDs ] [ videos ] [ books ] [ words ]
privacy statement
Unlike most web sites, we inform our visitors about our privacy policy. AdultToyReviews.com does collect generic information from visitors for statistical analysis (nation, browser, operating system, screen resolution, and monitor size) — any web site you visit can and probably does collect this information (and more). All individual identification information is immediately discarded (except for subscription information if you join our mailing lists). Information is never sold to outside mailing lists or any other purposes.
feedback
Share your experiences with other women. Give real user feedback on which toys are good, which toys are bad, and why. Let's replace advertising hype with solid information derived from actual experience.
All questions are optional. Pick and choose the ones you want to answer. Or use ordinary e-mail, at contact00@AdultToyReviews.com.
This web page is about the Senso Pocket Gal.


Some text and pictures copyright © Convergence Inc. Used by permission.
Copyright © 2001, 2002, 2003, 2005 AdultToyReviews.com
Last Updated: April 23, 2003
[ home ] [ toy info ] [ sorted by color ] [ sorted by material ] [ rabbits ] [ butterflies ] [ remote control ] [ strap-on harnesses ] [ dildoes ] [ double dildoes ] [ glass dildoes ] [ hands and fists ] [ vibrators ] [ massagers ] [ sleeves ] [ eggs and bullets ] [ clitoral stimulators ] [ waterproof vibrators ] [ anal probes and butt plugs ] [ beads ] [ breast pumps and nipple exciters ] [ balls ] [ erotic jewelry ] [ cock rings ] [ bondage ] [ lubricants, oils, and creams ] [ barriers ] [ hygiene ] [ erotic clothing ] [ transvestite items ] [ kits ] [ artificial vaginas ] [ male masturbators ] [ dolls ] [ penis pumps ] [ novelties ] [ DVDs ] [ videos ] [ books ] [ words ]